Checking the oil level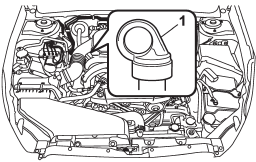 Non-turbo models
1) Yellow handle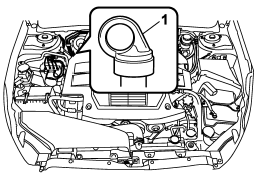 Turbo models
1) Yellow handle
Check the oil level monthly.
1. Park the vehicle on a level surface and stop the engine.
2. Pull out the level gauge, wipe it clean, and insert it again.

1) Upper level
2) Lower level
3. Pull out the level gauge again and check the oil level on it. If it is below the lower level, add oil through the level gauge hole to bring the level up to the upper level.
CAUTION
Be careful not to spill manual transmission oil when adding it. If oil touches the exhaust pipe, it may cause a bad smell, smoke, and/or a fire. If oil gets on the exhaust pipe, be sure to wipe it off.
See also:
Legacy
SUBARU does not offer accessory trailer hitches. Consult with a professional hitch supplier to assist you in choosing an appropriate hitch for your vehicle. Be sure to follow all of the hitch manu ...
Parking in cold weather
Do not use the parking brake when parking for long periods in cold weather since it could freeze in that position. Instead, you should observe the following tips. 1. Place the shift lever in "1" or ...
Temperature control dial
Temperature control dial This dial is used to set the desired interior temperature. With the dial set to your desired temperature, the system automatically adjusts the temperature of air supplied fro ...