3.6 L models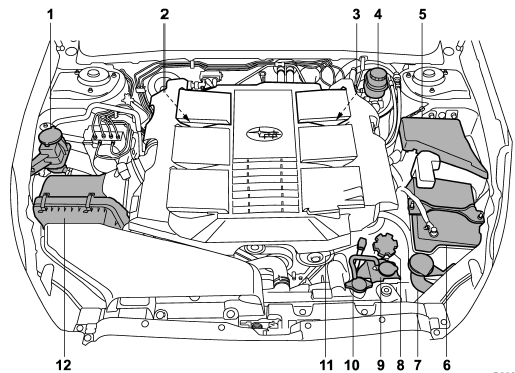 1) Power steering fluid reservoir (page 11-27) 2) Differential gear oil level gauge (page 11-26) 3) Automatic transmission fluid level gauge (page 11-24) 4) Brake fluid reservoir (page 11-28) 5) Fuse box (page 11-46) 6) Battery (page 11-45)
7) Windshield washer tank (page 11-40) 8) Engine oil filler cap (page 11-12) 9) Engine coolant reservoir (page 11-17) 10) Radiator cap (page 11-17) 11) Engine oil level gauge (page 11-12) 12) Air cleaner case (page 11-19)
See also:
Auto-store
Using the Auto-store function, you can automatically store 6 stations on the current waveband by pressing the "A.S" button for more than 2 seconds. Use Autostore to quickly find the strongest st ...
Behavior with key lock-in prevention function non-operational
● If the lock lever is turned to the rear ("LOCK") position with the driver's door open and the driver's door is then closed with the lock lever in that position, the driver's door is locked ...
Refrigerant for your climate control system
Your air conditioner uses ozone friendly refrigerant HFC134a. Therefore, the method of adding, changing or checking the refrigerant is different from the method for CFC12 (freon). Consult your SUBARU ...