2.5 L turbo models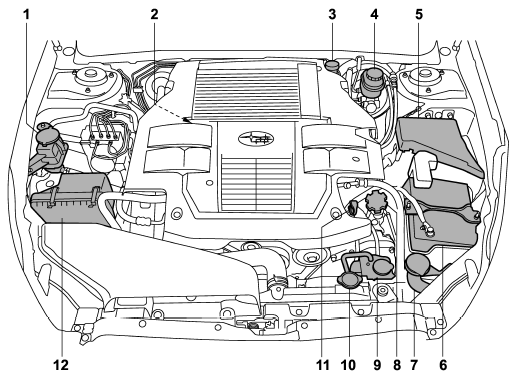 1) Power steering fluid reservoir (page 11-27) 2) Manual transmission oil level gauge (page 11-23) 3) Clutch fluid reservoir (page 11-29) 4) Brake fluid reservoir (page 11-28) 5) Fuse box (page 11-46) 6) Battery (page 11-45)
7) Windshield washer tank (page 11-40) 8) Engine oil filler cap (page 11-12) 9) Engine coolant reservoir (page 11-17) 10) Radiator cap (page 11-17) 11) Engine oil level gauge (page 11-12) 12) Air cleaner case (page 11-19)
See also:
Manual tuning
Turn the УTUNE/TRACK/CHФ dial clockwise to increase the tuning frequency and turn the УTUNE/TRACK/CHФ dial counterclockwise to decrease it. Each time the dial is turned, the frequency interval ca ...
Warranties for U.S.A.
All SUBARU vehicles distributed by Subaru of America, Inc. and sold at retail by an authorized SUBARU dealer in the United States come with the following warranties: ● SUBARU Limited Warranty ...
Preparing to drive
You should perform the following checks and adjustments every day before you start driving. 1. Check that all windows, mirrors, and lights are clean and unobstructed. 2. Check the appearance and c ...