Temporary spare tire
WARNING
● Never tow a trailer when the temporary spare tire is used. The temporary spare tire is not designed to sustain the towing load. Use of the temporary spare tire when towing can result in failure of the spare tire and/or less stability of the vehicle and may lead to an accident.
● When a spare tire is mounted or a wheel rim is replaced without the original pressure sensor/transmitter being transferred, the low tire pressure warning light will illuminate steadily after blinking for approximately one minute. This indicates the tire pressure monitoring system (TPMS) is unable to monitor all four road wheels. Contact your SUBARU dealer as soon as possible for tire and sensor replacement and/ or system resetting.
CAUTION
Never use any temporary spare tire other than the original. Using other sizes may result in severe mechanical damage to the drive train of your vehicle.
The temporary spare tire is smaller and lighter than a conventional tire and is designed for emergency use only. Remove the temporary spare tire and reinstall the conventional tire as soon as possible because the spare tire is designed only for temporary use.
Check the inflation pressure of the temporary spare tire periodically to keep the tire ready for use. The correct pressure is 60 psi (420 kPa, 4.2 kgf/cm2). When using the temporary spare tire, note the following precautions.
● Do not exceed 50 mph (80 km/h).
● Do not put a tire chain on the temporary spare tire. Because of the smaller tire size, a tire chain will not fit properly.
● Do not use two or more temporary spare tires at the same time.
● Do not drive over obstacles. This tire has a smaller diameter, so road clearance is reduced.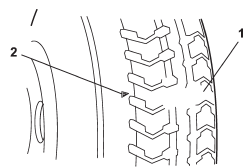 1) Tread wear indicator bar 2) Indicator location mark
● When the wear indicator appears on the tread, replace the tire.
● The temporary spare tire must be used only on a rear wheel. If a front wheel tire gets punctured, replace the wheel with a rear wheel and install the temporary spare tire in place of the removed rear wheel.
See also:
Unleaded gasoline
The neck of the fuel filler pipe is designed to accept only an unleaded gasoline filler nozzle. Under no circumstances should leaded gasoline be used because it will damage the emission contro ...
SPORT mode
SPORT mode is used when power is needed for rapid acceleration or for uphill driving. To select this mode, move the select lever from the "D" position to the manual gate. When selected, the SPORT ...
GVWR and GAWR (Gross Vehicle Weight Rating and Gross Axle Weight Rating)
Certification label The certification label attached to the driver's side door shows GVWR (Gross Vehicle Weight Rating) and GAWR (Gross Axle Weight Rating). The GVW (Gross Vehicle Weight) must n ...