Side mirrors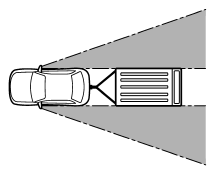 After hitching a trailer to your vehicle, check that the standard side mirrors provide a good rearward field of view without significant blind spots. If significant blind spots occur with the vehicle's standard side mirrors, use towing mirrors that conform with Federal, state/province and/ or other applicable regulations.
See also:
Shock sensors (dealer option)
The shock sensors trigger the alarm system when they sense impacts applied to the vehicle and when any of their electric wires is cut. The alarm system causes the horn to sound and the turn signal ...
Using a warm water washer
• Keep a good distance of 12 in (30 cm) or more between the washer nozzle and the vehicle. • Do not wash the same area continuously. • If a stain will not come out easily, wash by hand. Some warm wa ...
Temperature A, B, C
The temperature grades are A (the highest), B, and C, representing the tire's resistance to the generation of heat and its ability to dissipate heat when tested under controlled conditions on a specif ...