Catalytic converter
WARNING
● Avoid fire hazards. Do not drive or park the vehicle anywhere near flammable materials (e.g. grass, paper, rags or leaves), because the catalytic converter operates at very high temperatures.
● Keep everyone and flammable materials away from the exhaust pipe while the engine is running. The exhaust gas is very hot.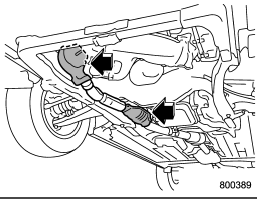 2.5 L non-turbo models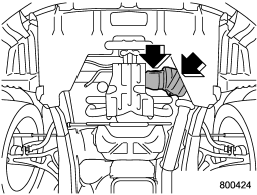 2.5 L turbo models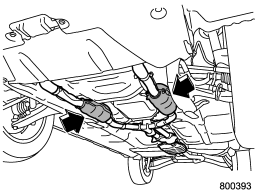 3.6 L models
The catalytic converter is installed in the exhaust system. It serves as catalyst to reduce HC, CO and NOx in exhaust gases, thus providing cleaner exhaust.
To avoid damage to the catalytic converter:
● Use only unleaded gasoline. Even a small amount of leaded gasoline will damage the catalytic converter.
● Never start the engine by pushing or pulling the vehicle.
● Avoid racing the engine.
● Never turn off the ignition switch while the vehicle is moving.
● Keep your engine tuned-up. If you feel the engine running rough (misfiring, backfiring or incomplete combustion), have your vehicle checked and repaired by an authorized SUBARU dealer.
● Do not apply undercoating or rust prevention treatment to the heat shield of catalytic converter and the exhaust system.
● Do not drive with an extremely low fuel level.
See also:
Recommended fluid
NOTE Using any non-specified type of automatic transmission fluid could result in damage inside the transmission. When replacing the automatic transmission fluid, be sure to use the specified typ ...
Changing the coolant
WARNING Never attempt to remove the radiator cap until the engine has been shut off and has cooled down completely. Since the coolant is under pressure, you may suffer serious burns from a spray ...
Door open warning light
The door open warning light illuminates if any door or the rear gate is not fully closed. Always make sure this light is out before you start to drive. ...