To set cruise control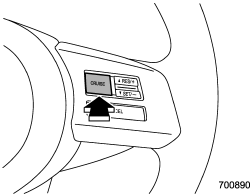 1. Press the "CRUISE" main switch button.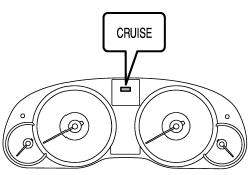 The cruise control indicator light on the combination meter will illuminate.
2. Depress the accelerator pedal until the vehicle reaches the desired speed.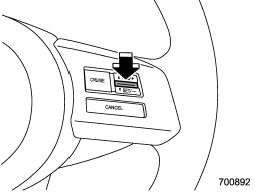 3. Press the "RES/SET" switch to the "SET" side and release it. Then release the accelerator pedal.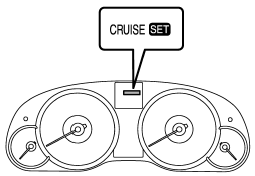 At this time, the cruise control set indicator light is illuminated in the combination meter.
The vehicle will maintain the desired speed.
Vehicle speed can be temporarily increased while driving with the cruise control activated. Simply depress the accelerator pedal to accelerate the vehicle. When the accelerator pedal is released, the vehicle will return to and maintain the previous cruising speed.
See also:
Air conditioner compressor shut-off when engine is heavily loaded
To improve acceleration and gas mileage, the air conditioner compressor is designed to temporarily shut off during air conditioner operation whenever the accelerator is fully depressed such as ...
Parking brake lining
The break-in maintenance for the parking brake linings should be performed at a SUBARU dealer. ...
Brake booster
The brake booster uses engine manifold vacuum to assist braking force. Do not turn off the engine while driving because that will turn off the brake booster, resulting in poor braking power. The brak ...