Maximum allowable speeds
WARNING
When shifting down a gear, ensure that the vehicle is not travelling at a speed exceeding the Maximum Allowable Speed for the gear which is about to be selected. Failure to observe this precaution can lead to engine over-revving and this in turn can result in engine damage.
In addition, sudden application of engine brakes when the vehicle is travelling on a slippery surface can lead to wheel locking; as a consequence, control of the vehicle may be lost and the risk of an accident increased.
The following table shows the maximum speeds that are possible with each different gear. The tachometer's needle will enter the red area if these speeds are exceeded.
With the exception of cases where sudden acceleration is required, the vehicle should not be driven with the tachometer's needle inside the red area. Failure to observe this precaution can lead to excessive engine wear and poor fuel economy.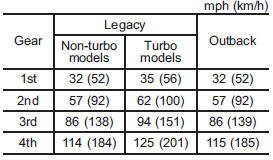 NOTE
Never exceed posted speed limits.
See also:
New Designs for 2011
In front, the 2011 WRX STI models feature sharpened bumper corners and wider, blacked-out fog lamp nacelles to accentuate the "wide and low" profile. A jutting lip spoiler with three-dim ...
Selection of manual mode
With the vehicle either moving or stationary, move the select lever from the "D" position to the manual gate then move it to the "+" end or "−" end of the manual gate to select manua ...
Loading all the magazine (full disc loading mode)
1. If you continue to press the "LOAD" button for more than 1.5 seconds, the player will produce beep sound and will enter the full disc loading mode. 2. When the disc number indicator flashes and "A ...