Volume control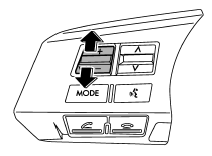 You can adjust the phone call volume, the voice volume and the voice guidance volume. Refer to "Volume control switch" F5-32.
Adjustable level of each volume

See also:
Pulling off the fender lining
It is necessary to pull off the fender lining when replacing some bulbs. 1. Start the engine and turn the steering wheel fully in the opposite direction of the bulb to be replaced. 2. Stop the eng ...
To increase the speed (by accelerator pedal)
1. Depress the accelerator pedal to accelerate the vehicle to the desired speed. 2. Press the "RES/SET" switch to the "SET" side once. Now the desired speed is set and the vehicle will keep running ...
Towing and tie-down hooks/holes
The towing hooks should be used only in an emergency (e.g., to free a stuck vehicle from mud, sand or snow). CAUTION ● Use only the specified towing hooks and tie-down hooks/holes. Never use ...