Loading all the magazine (full disc loading mode)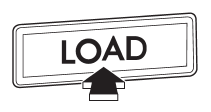 1. If you continue to press the "LOAD" button for more than 1.5 seconds, the player will produce beep sound and will enter the full disc loading mode.
2. When the disc number indicator flashes and "ALL LOAD" indicator illuminates, insert a disc within 15 seconds. If a disc is successfully loaded during this period, the disc number indicator will stop blinking and will steadily light.
3. When the loading of a disc is complete, the next idle disc number indicator will blink. Then repeat step 2.
4. When the magazine is filled with discs by repeating steps 2 and 3, the player will start playback of the discs, beginning with the one inserted first.
If you fail to insert any disc during each 15 seconds interval, the full disc loading mode will be canceled, and the player will start playback of the disc inserted first.
See also:
The Outside
I liked the outgoing Legacy. Its appearance — assertive up front, aggressive in profile — set it apart from a number of tubbier-looking competitors. Sadly, times have changed. The Legacy has caugh ...
Cargo tie-down hooks (5-door – if equipped)
The cargo area is equipped with four tiedown hooks so that cargo can be secured with a cargo net or ropes. When using the tie-down hooks, turn them down out of the storing recesses. When not in use ...
Recommended clutch fluid
CAUTION Never use different brands of clutch fluid together. Also, avoid mixing DOT 3 and DOT 4 brake fluids even if they are the same brand. ...