Keys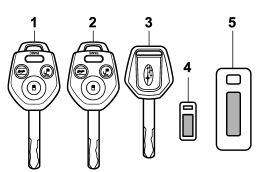 1) Master key
2) Submaster key
3) Valet key
4) Key number plate
5) Security ID plate
Three types of keys are provided for your vehicle:
Master key, submaster key and valet key. The master key and submaster key fit all locks on your vehicle.
● Ignition switch ● Driver's door
● Glove box
● Trunk lid (Legacy)
The valet key fits only the ignition switch and door locks. You can keep the trunk and glove box locked when you leave your vehicle and valet key at a parking facility.
CAUTION
Do not attach a large key holder or key case to either key. If it bangs against your knees while you are driving, it could turn the ignition switch from the "ON" position to the "Acc" or "LOCK" position, thereby stopping the engine.
See also:
Adjusting the front seat shoulder belt anchor height
The shoulder belt anchor height should be adjusted to the position best suited for the driver/front passenger. Always adjust the anchor height so that the shoulder belt passes over the middle of ...
D (Drive)
This position is for normal driving. The transmission automatically shifts into a suitable gear according to the vehicle speed and the acceleration you require. When more acceleration is required ...
Rear wiper
To turn the rear wiper on, turn the knob on the end of the wiper control lever upward to the "INT" or "ON" position. To turn the wiper off, return the knob on the end of the lever to the "OFF" ...