Keys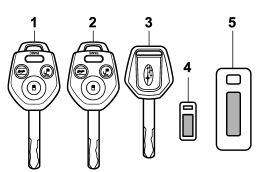 1) Master key
2) Submaster key
3) Valet key
4) Key number plate
5) Security ID plate
Three types of keys are provided for your vehicle:
Master key, submaster key and valet key. The master key and submaster key fit all locks on your vehicle.
● Ignition switch ● Driver's door
● Glove box
● Trunk lid (Legacy)
The valet key fits only the ignition switch and door locks. You can keep the trunk and glove box locked when you leave your vehicle and valet key at a parking facility.
CAUTION
Do not attach a large key holder or key case to either key. If it bangs against your knees while you are driving, it could turn the ignition switch from the "ON" position to the "Acc" or "LOCK" position, thereby stopping the engine.
See also:
Washing the underbody
Chemicals, salts and gravel used for deicing road surfaces are extremely corrosive, accelerating the corrosion of underbody components, such as the exhaust system, fuel and brake lines, brake ...
Where to place a child restraint system
The following are SUBARU's recommendations on where to place a child restraint system in your vehicle. A: Front passenger's seat You should not install a child restraint system (including a ...
Tachometer
The tachometer shows the engine speed in thousands of revolutions per minute. Do not operate the engine with the pointer of the tachometer in the red zone. This may cause severe damage to ...