Keys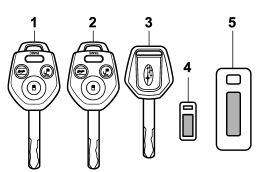 1) Master key
2) Submaster key
3) Valet key
4) Key number plate
5) Security ID plate
Three types of keys are provided for your vehicle:
Master key, submaster key and valet key. The master key and submaster key fit all locks on your vehicle.
● Ignition switch ● Driver's door
● Glove box
● Trunk lid (Legacy)
The valet key fits only the ignition switch and door locks. You can keep the trunk and glove box locked when you leave your vehicle and valet key at a parking facility.
CAUTION
Do not attach a large key holder or key case to either key. If it bangs against your knees while you are driving, it could turn the ignition switch from the "ON" position to the "Acc" or "LOCK" position, thereby stopping the engine.
See also:
Auto mode
In the auto mode, the system estimates the driving and road conditions using signals from the wheel speed sensor, throttle position sensor, steering angle sensor and brake switch, etc. According to ...
How to play back
Press the "CD/AUX" button and select the "BT-A" mode. ...
On the Road
Today's four-cylinder family cars are hardly the dogs they used to be (my point of reference being the mid-90s Accord I drove in high school — a car that won me few stoplight-revving contests and ...