Adjusting the front seat shoulder belt anchor height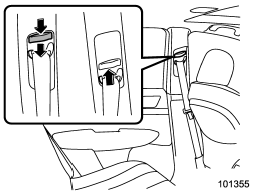 The shoulder belt anchor height should be adjusted to the position best suited for the driver/front passenger. Always adjust the anchor height so that the shoulder belt passes over the middle of the shoulder without touching the neck.
To raise:
Slide the anchor up.
To lower:
Push the release button and slide the anchor down.
Pull down the anchor to make sure that it is locked in place.
WARNING
When wearing the seatbelts, make sure the shoulder portion of the webbing does not pass over your neck. If it does, adjust the seatbelt anchor to a lower position. Placing the shoulder belt over the neck may result in neck injury during sudden braking or in a collision.
See also:
Mirrors
Always check that the inside and outside mirrors are properly adjusted before you start driving. ...
Trailer towing
Your vehicle is neither designed nor intended to be used for trailer towing. Therefore, never tow a trailer with your vehicle. SUBARU assumes no responsibility for injuries or vehicle damage that ma ...
Measuring and adjusting air pressure to achieve proper inflation
Check and, if necessary, adjust the pressure of each tire (including the spare) at least once a month and before any long journey. Check the tire pressures when the tires are cold. Use a pre ...