Front seatbelts
1. Adjust the seat position:
Driver's seat: Adjust the seatback to the upright position. Move the seat as far from the steering wheel as practical while still maintaining full vehicle control. Front passenger's seat: Adjust the seatback to the upright position. Move the seat as far back as possible.
2. Sit well back in the seat.
3. Pick up the tongue plate and pull the belt out slowly. Do not let it get twisted. If the belt stops before reaching the buckle, return the belt slightly and pull it out more slowly. If the belt still cannot be unlocked, let the belt retract slightly after giving it a strong pull, then pull it out slowly again.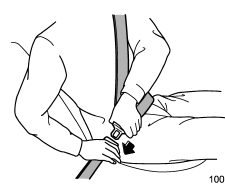 4. Insert the tongue plate into the buckle until you hear a click.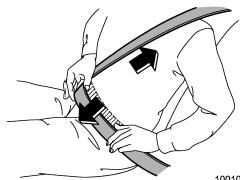 5. To make the lap part tight, pull up on the shoulder belt.
6. Place the lap belt as low as possible on your hips, not on your waist.
See also:
Wiper and washer
In freezing weather, do not use the windshield washer until the windshield is sufficiently warmed by the defroster. Otherwise the washer fluid can freeze on the windshield, blocking y ...
Light control and wiper control levers/switches
1) Windshield wiper (page 3-31) 2) Mist (page 3-32) 3) Windshield washer (page 3-33) 4) Rear window wiper and washer switch (page 3-34) 5) Wiper intermittent time control switch (page 3-33) 6) ...
The Inside
The swoopy dashboard styling carries over from the B9 Tribeca, and while it's different from anything else on the market, it doesn't sacrifice ease of use in the name of fashion; all of the contro ...