Rear window side seating position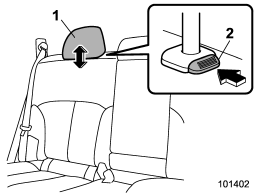 1) Head restraint 2) Release button
To raise:
Pull the head restraint up.
To lower:
Push the head restraint down while pressing the release button on the top of the seatback.
To remove:
While pressing the release button, pull out the head restraint.
To install:
Install the head restraint into the holes that are located on the top of the seatback until the head restraint locks.
The head restraint should be adjusted so that the center of the head restraint is closest to the top of the occupant's ears. When the seats are not occupied, lower the head restraints to improve rearward visibility.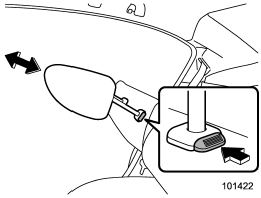 NOTE
For Legacy, it is not possible to remove or install the head restraint without folding down the rear seatback. Fold down the rear seatback and then remove or install the head restraint.
See also:
Hill start assist system (MT models)
The Hill start assist system is a device only for helping the driver to START the vehicle on an uphill grade. To prevent accidents when the vehicle is parked on a slope, be sure to firml ...
Intelligent (I) mode
For smooth, efficient performance driving The Intelligent (I) mode provides wellbalanced performance with greater fuel efficiency and smooth driveability without stress. Power delivery is moderate du ...
Power steering
The power steering system operates only when the engine is running. If you lose power steering assist because the engine stops or the system fails to function, you can steer but it will take ...