Reclining the seatback (Outback)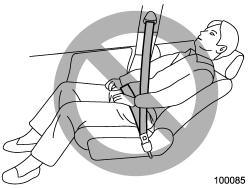 WARNING
To prevent the passenger from sliding under the seatbelt in the event of a collision, always put the seatback in the upright position while the vehicle is in motion.
CAUTION
If the vehicle is equipped with a cargo area cover, observe the following precautions.
● Be careful not to pinch your hand between the headrest and the cargo area cover when you recline the rear seat.
● Move the front cover of the cargo area cover backward so that the cover is not damaged by the reclined seatback. Refer to "Cargo area cover" F6-15.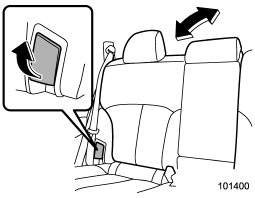 Pull the lever and adjust the seatback to the desired position.
Then release the lever and make sure the seatback is securely locked into place.
See also:
Drinking and driving
WARNING Drinking and then driving is very dangerous. Alcohol in the bloodstream delays your reaction and impairs your perception, judgment and attentiveness. If you drive after drinking – even if ...
Passive arming
When passive arming mode has been programmed by the dealer, arming of the system is automatically accomplished without using the remote transmitter. Note that in this mode, DOORS MUST BE MAN ...
Category selection
Type A, B and C audio To activate the category search mode, press the "PTY/CAT" button. To deactivate the category search mode, press the "PTY/CAT" button again. When in the category search ...