Canada-spec. models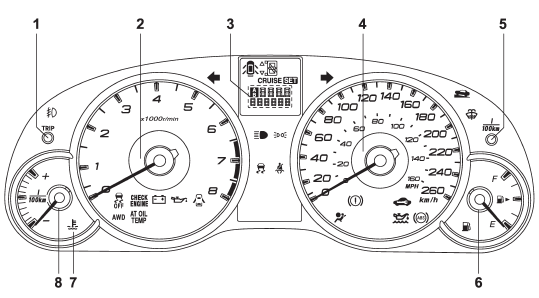 1) Trip meter A/B selection and trip meter reset knob (page 3-6) 2) Tachometer (page 3-7) 3) Trip meter and odometer (page 3-6) 4) Speedometer (page 3-6) 5) Multi function display switching knob (page 3-25) 6) Fuel gauge (page 3-7) 7) Coolant temperature warning/indicator light (page 3-13) 8) ECO gauge (page 3-8)
See also:
Operation during cold weather
Carry some emergency equipment, such as a window scraper, a bag of sand, flares, a small shovel and jumper cables. Check the battery and cables. Cold temperatures reduce battery capacity. The batter ...
Jump starting
• Battery fluid is SULFURIC ACID. Do not let it come in contact with the eyes, skin, clothing or the vehicle. If battery fluid gets on you, thoroughly flush the exposed area with water immediate ...
ENGINES
This 1,998 cc diesel is based on the Subaru 'Boxer Diesel' introduced in March 2008 - the world's first horizontally-opposed diesel engine for volume-produced passenger cars. It produces a maximum ...