Exterior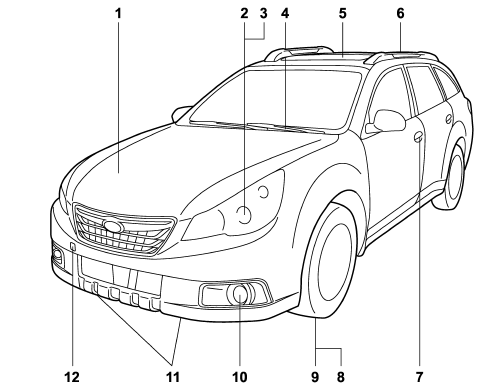 1) Engine hood lock release (page 11-7) 2) Headlight switch (page 3-28) 3) Bulb replacement (page 11-48) 4) Wiper switch (page 3-32) 5) Moonroof (page 2-28)
6) Roof rail (page 8-14) 7) Door locks (page 2-4) 8) Tire pressure (page 11-35) 9) Flat tires (page 9-6) 10) Fog light switch (page 3-30) 11) Tie-down hooks (page 9-13) 12) Towing hook (page 9-12)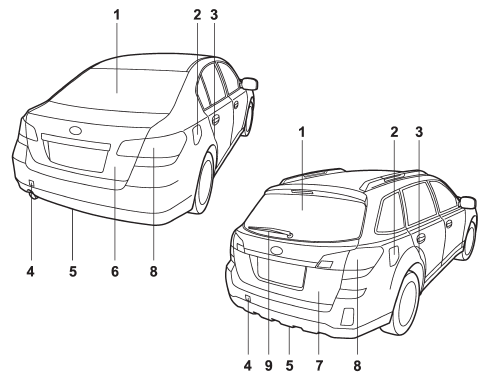 1) Rear window defogger button (page 3-34) 2) Fuel filler lid and cap (page 7-3) 3) Child safety locks (page 2-20) 4) Towing hook (page 9-12) 5) Tie-down hooks (page 9-13) 6) Trunk lid (page 2-24) 7) Rear gate (page 2-26) 8) Bulb replacement (page 11-52) 9) Rear wiper switch (page 3-34)
See also:
Roof rail (if equipped)
1) Roof rack Luggage can be carried on the roof after securing the roof rack to the roof rail. When installing the roof rack on the roof rail, follow the manufacturer's instructions. The ro ...
Wheel alignment
*: The difference between right-hand camber and left-hand camber should be within 45' or less. ...
Where to place a child restraint system
The following are SUBARU's recommendations on where to place a child restraint system in your vehicle. A: Front passenger's seat You should not install a child restraint system (including a ...