Exterior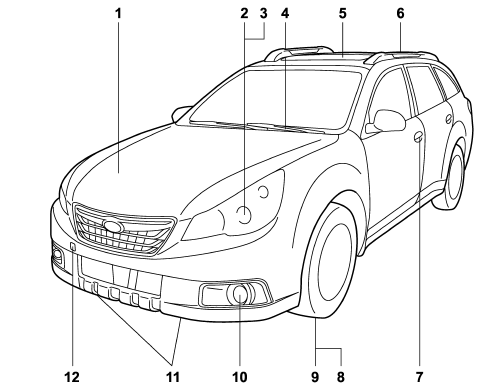 1) Engine hood lock release (page 11-7) 2) Headlight switch (page 3-28) 3) Bulb replacement (page 11-48) 4) Wiper switch (page 3-32) 5) Moonroof (page 2-28)
6) Roof rail (page 8-14) 7) Door locks (page 2-4) 8) Tire pressure (page 11-35) 9) Flat tires (page 9-6) 10) Fog light switch (page 3-30) 11) Tie-down hooks (page 9-13) 12) Towing hook (page 9-12)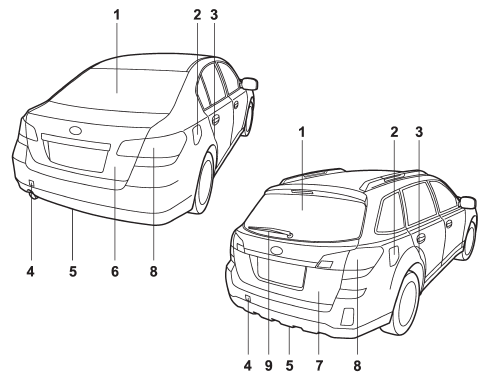 1) Rear window defogger button (page 3-34) 2) Fuel filler lid and cap (page 7-3) 3) Child safety locks (page 2-20) 4) Towing hook (page 9-12) 5) Tie-down hooks (page 9-13) 6) Trunk lid (page 2-24) 7) Rear gate (page 2-26) 8) Bulb replacement (page 11-52) 9) Rear wiper switch (page 3-34)
See also:
Hill Holder function
The electronic parking brake system has a Hill Holder function. If the Hill Holder function is activated, the parking brake will be automatically applied when stopping on an uphill slope with the ...
Checking the clutch pedal free play
1) 0.19 – 0.44 in (5 – 11 mm) Lightly press the clutch pedal down with your finger until you feel resistance, and check the free play. If the free play is not within proper specification, contac ...
Summer tires
Summer tires are high-speed capability tires best suited for highway driving under dry conditions. Summer tires are inadequate for driving on slippery roads such as on snowcovered or icy roads. If y ...