Exterior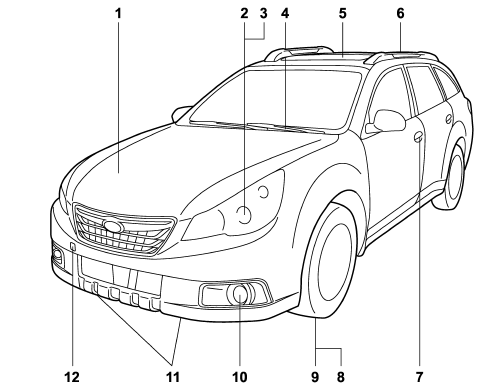 1) Engine hood lock release (page 11-7) 2) Headlight switch (page 3-28) 3) Bulb replacement (page 11-48) 4) Wiper switch (page 3-32) 5) Moonroof (page 2-28)
6) Roof rail (page 8-14) 7) Door locks (page 2-4) 8) Tire pressure (page 11-35) 9) Flat tires (page 9-6) 10) Fog light switch (page 3-30) 11) Tie-down hooks (page 9-13) 12) Towing hook (page 9-12)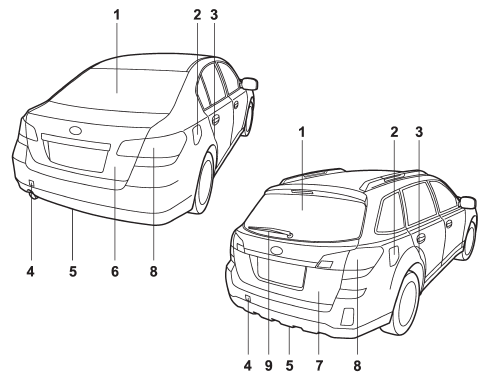 1) Rear window defogger button (page 3-34) 2) Fuel filler lid and cap (page 7-3) 3) Child safety locks (page 2-20) 4) Towing hook (page 9-12) 5) Tie-down hooks (page 9-13) 6) Trunk lid (page 2-24) 7) Rear gate (page 2-26) 8) Bulb replacement (page 11-52) 9) Rear wiper switch (page 3-34)
See also:
Map light
Models with moonroof Models without moonroof To turn on the map light, press the switch. To turn it off, press the switch again. When leaving the vehicle, make sure the lights are turned off t ...
Keys
1) Master key 2) Submaster key 3) Valet key 4) Key number plate 5) Security ID plate Three types of keys are provided for your vehicle: Master key, submaster key and valet key. The master key ...
Wiper intermittent time control
Wiper intermittent time control When the wiper switch is in the "" position, turn the dial to adjust the operating interval of the wiper. The operating interval can be adjusted continuousl ...