Trunk light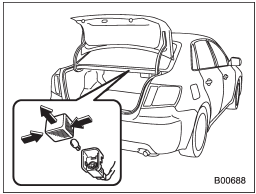 1. Remove the cover by squeezing its sides and pulling it.
2. Pull the bulb out of the socket.
3. Install a new bulb.
4. Reinstall the cover.
See also:
Cleaning aluminum wheels
- Promptly wipe the aluminum wheels clean of any kind of grime or agent. If dirt is left on too long, it may be difficult to clean off. - Do not use soap containing grit to clean the wheels. ...
Traction AA, A, B, C
The traction grades, from highest to lowest, are AA, A, B and C. Those grades represent the tire's ability to stop on wet pavement as measured under controlled conditions on specified governme ...
Other markings
The following makings are also placed on the sidewall. Maximum permissible inflation pressure The maximum cold inflation pressure to which this tire may be inflated. For example, "350 kPa (51 PSI) ...