Front seatbelts
1. Adjust the seat position:
Driver's seat: Adjust the seatback to the upright position. Move the seat as far from the steering wheel as practical while still maintaining full vehicle control. Front passenger's seat: Adjust the seatback to the upright position. Move the seat as far back as possible.
2. Sit well back in the seat.
3. Pick up the tongue plate and pull the belt out slowly. Do not let it get twisted. If the belt stops before reaching the buckle, return the belt slightly and pull it out more slowly. If the belt still cannot be unlocked, let the belt retract slightly after giving it a strong pull, then pull it out slowly again.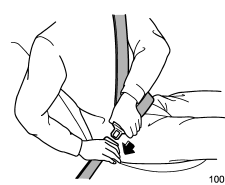 4. Insert the tongue plate into the buckle until you hear a click.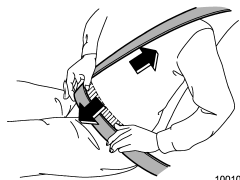 5. To make the lap part tight, pull up on the shoulder belt.
6. Place the lap belt as low as possible on your hips, not on your waist.
See also:
Select lever
: Shifting is possible with the brake pedal depressed. : Shifting is possible whether the brake pedal is depressed or not. However, while the ignition switch is in the "LOCK" or "Acc" positio ...
One Gear Shy
To solve the problem for good, and improve the car markedly, Subaru needs to replace the five-speed manual with a six-speed. So that you know where I'm coming from, I'm not someone who demands six ...
Vehicle identification
Vehicle identification 1) Vehicle identification number 2) Emission control label 3) Tire inflation pressure label 4) Certification label 5) Vehicle identification number plate 6) Model n ...