Back-up light (5-door)
1. Apply a flat-head screwdriver to the light cover as shown in the illustration, and pry the light cover off from the rear gate trim.
2. Turn the bulb socket counterclockwise and remove it.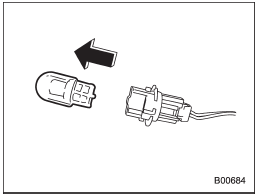 3. Pull the bulb out of the bulb socket and replace it with a new one.
4. Install the bulb socket by turning it clockwise.
5. Install the light cover on the rear gate.
See also:
Driving when tired or sleepy
WARNING When you are tired or sleepy, your reaction will be delayed and your perception, judgment and attentiveness will be impaired. If you drive when tired or sleepy, your, your passengers' and ...
Refueling
Only one person should be involved in refueling. Do not allow others to approach the area of the vehicle near the fuel filler pipe while refueling is in progress. Be sure to observe any other preca ...
Wear indicators
1) New tread 2) Worn tread 3) Tread wear indicator Each tire incorporates a tread wear indicator, which becomes visible when the depth of the tread grooves decreases to 0.063 in (1.6 mm). ...