Back-up light (5-door)
1. Apply a flat-head screwdriver to the light cover as shown in the illustration, and pry the light cover off from the rear gate trim.
2. Turn the bulb socket counterclockwise and remove it.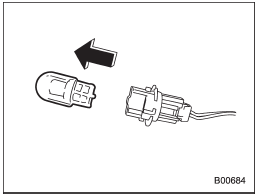 3. Pull the bulb out of the bulb socket and replace it with a new one.
4. Install the bulb socket by turning it clockwise.
5. Install the light cover on the rear gate.
See also:
Arming the system
In passive mode, the system will automatically activate the alarm but WILL NOT automatically lock the doors. In order to lock the doors you must either lock them as indicated in step 4 b ...
On the Road
Today's four-cylinder family cars are hardly the dogs they used to be (my point of reference being the mid-90s Accord I drove in high school — a car that won me few stoplight-revving contests and ...
Rear seats
Seatbelts provide maximum restraint when the occupant sits well back and upright in the seat. Do not put cushions or any other materials between occupants and seatbacks or seat cushion ...