Windshield wiper blade rubber (type A and type B)
NOTE
The following illustrations show the replacement procedures of the blade rubber for a type A wiper blade assembly, however the replacement procedures are the same for a type B wiper blade assembly.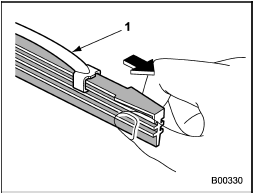 1) Metal support
1. Grasp the locked end of the blade rubber assembly and pull it firmly until the stoppers on the rubber are free of the metal support.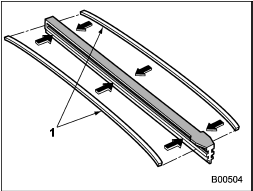 1) Metal spines
2. If the new blade rubber is not provided with two metal spines, remove the metal spines from the old blade rubber and install them in the new blade rubber.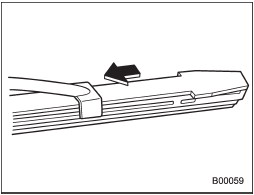 3. Align the claws of the metal support with the grooves in the rubber and slide the blade rubber assembly into the metal support until it locks.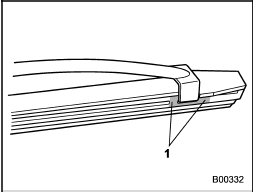 1) Stopper
4. Be sure to position the claws at the end of the metal support between the stoppers on the rubber as shown. If the rubber is not retained properly, the wiper blade may scratch the windshield.
NOTE
The illustration shows the replacement procedure for type A rubber wiper blades, however the replacement procedure is the same for type B. Perform the replacement of type B wiper blades following the procedure in this section.
See also:
When checking or servicing in the engine compartment while the engine is running
A running engine can be dangerous. Keep your fingers, hands, clothing, hair and tools away from the cooling fan, belts and any other moving engine parts. Removing rings, watches and ties ...
Air cleaner element
WARNING Do not operate the engine with the air cleaner element removed. The air cleaner element not only filters intake air but also stops flames if the engine backfires. If the air cleaner eleme ...
Storage compartment
- Always keep the storage compartment closed while driving to reduce the risk of injury in the event of a sudden stop or an accident. - Do not store spray cans, containers with flammabl ...