Windshield wiper blade rubber (type A and type B)
NOTE
The following illustrations show the replacement procedures of the blade rubber for a type A wiper blade assembly, however the replacement procedures are the same for a type B wiper blade assembly.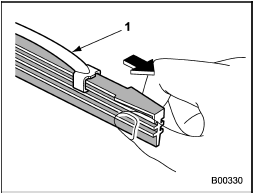 1) Metal support
1. Grasp the locked end of the blade rubber assembly and pull it firmly until the stoppers on the rubber are free of the metal support.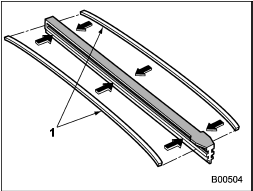 1) Metal spines
2. If the new blade rubber is not provided with two metal spines, remove the metal spines from the old blade rubber and install them in the new blade rubber.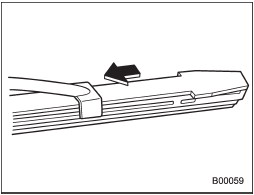 3. Align the claws of the metal support with the grooves in the rubber and slide the blade rubber assembly into the metal support until it locks.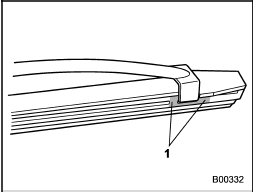 1) Stopper
4. Be sure to position the claws at the end of the metal support between the stoppers on the rubber as shown. If the rubber is not retained properly, the wiper blade may scratch the windshield.
NOTE
The illustration shows the replacement procedure for type A rubber wiper blades, however the replacement procedure is the same for type B. Perform the replacement of type B wiper blades following the procedure in this section.
See also:
Replacement of brake pad and lining
The right front disc brake and the right rear disc brake have audible wear indicators on the brake pads. If the brake pads wear close to their service limit, the wear indicator makes a very audible ...
New electronic parking brake and hill-hold function
The all-disc braking system, with ABS and EBD (Electronic Brake-force Distribution) as standard, has a linear feel with retardation corresponding closely to applied brake pedal pressure. A redesig ...
Immobilizer system
This light blinks approximately 60 seconds after the ignition switch is turned from "ON" position to the "Acc" or "LOCK" position or immediately after the key is pulled out. Refer to "Immobilizer" ...