Windshield wiper blade rubber (type A and type B)
NOTE
The following illustrations show the replacement procedures of the blade rubber for a type A wiper blade assembly, however the replacement procedures are the same for a type B wiper blade assembly.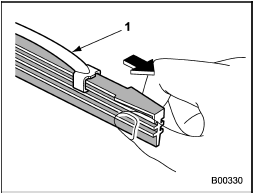 1) Metal support
1. Grasp the locked end of the blade rubber assembly and pull it firmly until the stoppers on the rubber are free of the metal support.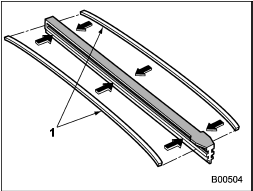 1) Metal spines
2. If the new blade rubber is not provided with two metal spines, remove the metal spines from the old blade rubber and install them in the new blade rubber.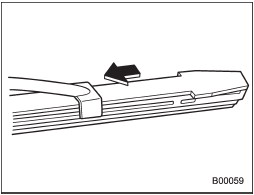 3. Align the claws of the metal support with the grooves in the rubber and slide the blade rubber assembly into the metal support until it locks.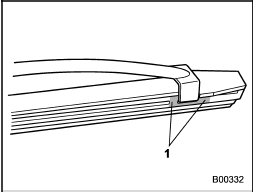 1) Stopper
4. Be sure to position the claws at the end of the metal support between the stoppers on the rubber as shown. If the rubber is not retained properly, the wiper blade may scratch the windshield.
NOTE
The illustration shows the replacement procedure for type A rubber wiper blades, however the replacement procedure is the same for type B. Perform the replacement of type B wiper blades following the procedure in this section.
See also:
When "CHECK DISC" is displayed
Press the eject button to unload the discs. Check that the disc is not damaged or scratched, and also check that the disc is inserted correctly. This message may appear when using some CD-RW discs ...
Reporting safety defects (U.S.A.)
If you believe that your vehicle has a defect which could cause a crash or could cause injury or death, you should immediately inform the National Highway Traffic Safety Administration (NHTS ...
Changing the voice tag of the cell phone
1. Select the "SETUP" menu. 2. Select the "PHONE SETUP" menu. 3. Select the "CHANGE NAME" menu. If no cell phones are registered, "EMPTY" is displayed and the mode changes to the "PHONE SETUP" mode. ...