Windshield wiper blade rubber (type A and type B)
NOTE
The following illustrations show the replacement procedures of the blade rubber for a type A wiper blade assembly, however the replacement procedures are the same for a type B wiper blade assembly.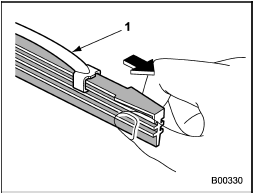 1) Metal support
1. Grasp the locked end of the blade rubber assembly and pull it firmly until the stoppers on the rubber are free of the metal support.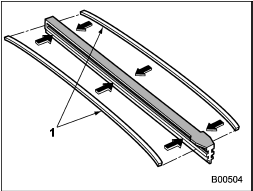 1) Metal spines
2. If the new blade rubber is not provided with two metal spines, remove the metal spines from the old blade rubber and install them in the new blade rubber.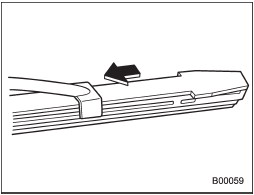 3. Align the claws of the metal support with the grooves in the rubber and slide the blade rubber assembly into the metal support until it locks.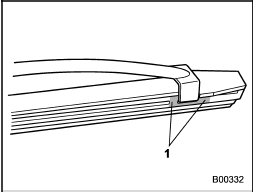 1) Stopper
4. Be sure to position the claws at the end of the metal support between the stoppers on the rubber as shown. If the rubber is not retained properly, the wiper blade may scratch the windshield.
NOTE
The illustration shows the replacement procedure for type A rubber wiper blades, however the replacement procedure is the same for type B. Perform the replacement of type B wiper blades following the procedure in this section.
See also:
To turn off the cruise control
There are two ways to turn off the cruise control: ● Press the "CRUISE" main switch button again. ● Turn the ignition switch to the "Acc" or "LOCK" position (but only when the vehicle ...
Armrest
Armrest To lower the armrest, pull on the top edge of the armrest. To avoid the possibility of serious injury, passengers must never be allowed to sit on the center armrest while the v ...
Fan speed control dial
The fan operates only when the ignition switch is turned to the "ON" position. The fan speed control dial is used to select four fan speeds. ...