Windshield wiper blade rubber (type A and type B)
NOTE
The following illustrations show the replacement procedures of the blade rubber for a type A wiper blade assembly, however the replacement procedures are the same for a type B wiper blade assembly.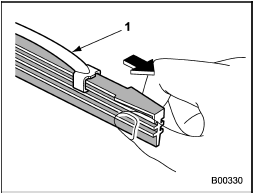 1) Metal support
1. Grasp the locked end of the blade rubber assembly and pull it firmly until the stoppers on the rubber are free of the metal support.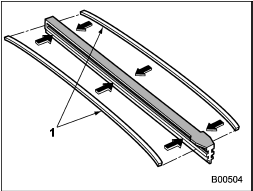 1) Metal spines
2. If the new blade rubber is not provided with two metal spines, remove the metal spines from the old blade rubber and install them in the new blade rubber.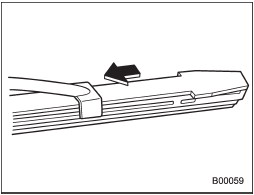 3. Align the claws of the metal support with the grooves in the rubber and slide the blade rubber assembly into the metal support until it locks.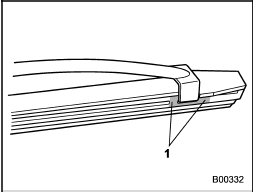 1) Stopper
4. Be sure to position the claws at the end of the metal support between the stoppers on the rubber as shown. If the rubber is not retained properly, the wiper blade may scratch the windshield.
NOTE
The illustration shows the replacement procedure for type A rubber wiper blades, however the replacement procedure is the same for type B. Perform the replacement of type B wiper blades following the procedure in this section.
See also:
Drive belts
It is unnecessary to check the deflection of the drive belt periodically because your engine is equipped with an automatic belt tension adjuster. However, replacement of the belt should be done ac ...
Tire labeling
Many markings (e.g. Tire size, Tire Identification Number or TIN) are placed on the sidewall of a tire by tire manufacturers. These marking can provide you with useful information on the tire. ...
Air conditioner button
Air conditioner button The button positions and their functions are as follows. ON: The air conditioner operates while the fan is running. Push the button to select this position. The indicator lig ...