Wear indicators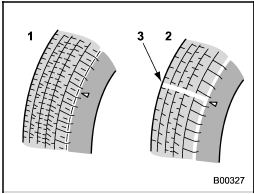 1) New tread
2) Worn tread
3) Tread wear indicator
Each tire incorporates a tread wear indicator, which becomes visible when the depth of the tread grooves decreases to 0.063 in (1.6 mm). A tire must be replaced when the tread wear indicator appears as a solid band across the tread.

When a tire's tread wear indicator becomes visible, the tire is worn beyond the acceptable limit and must be replaced immediately. With a tire in this condition, driving at high speeds in wet weather can cause the vehicle to hydroplane.
The resulting loss of vehicle control can lead to an accident.
NOTE
For safety, inspect tire tread regularly and replace the tires before their tread wear indicators become visible.
See also:
Function settings
A SUBARU dealer can change the settings of the functions shown in the following table to meet your personal requirements. Contact the nearest SUBARU dealer for details. If your vehicle is equipped w ...
Certification for the Hands-free system
NOTE ● This device complies with Part 15 of the FCC Rules and with RSS-Gen of IC Rules. Operation is subject to the following two conditions: (1) This device may not cause harmful interfere ...
Recommended grade and viscosity
CAUTION Use only engine oil with the recommended grade and viscosity. NOTE Engine oil viscosity (thickness) affects fuel economy. Oils of lower viscosity provide better fuel economy. However, in ...