Wear indicators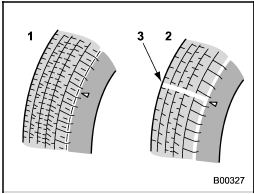 1) New tread
2) Worn tread
3) Tread wear indicator
Each tire incorporates a tread wear indicator, which becomes visible when the depth of the tread grooves decreases to 0.063 in (1.6 mm). A tire must be replaced when the tread wear indicator appears as a solid band across the tread.

When a tire's tread wear indicator becomes visible, the tire is worn beyond the acceptable limit and must be replaced immediately. With a tire in this condition, driving at high speeds in wet weather can cause the vehicle to hydroplane.
The resulting loss of vehicle control can lead to an accident.
NOTE
For safety, inspect tire tread regularly and replace the tires before their tread wear indicators become visible.
See also:
Setting pair phone
Refer to "Preparation for using the Handsfree system". ...
Brake pedal
Check the brake pedal free play and reserve distance according to the maintenance schedule in the "Warranty and Maintenance Booklet". ...
Brake assist system
Do not be overconfident about the brake assist. It is not a system that brings more braking ability to the vehicle beyond its braking capability. Always use the utmost care when driving regarding ...