Wear indicators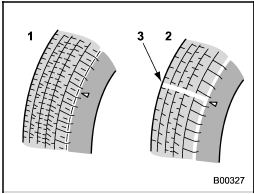 1) New tread
2) Worn tread
3) Tread wear indicator
Each tire incorporates a tread wear indicator, which becomes visible when the depth of the tread grooves decreases to 0.063 in (1.6 mm). A tire must be replaced when the tread wear indicator appears as a solid band across the tread.

When a tire's tread wear indicator becomes visible, the tire is worn beyond the acceptable limit and must be replaced immediately. With a tire in this condition, driving at high speeds in wet weather can cause the vehicle to hydroplane.
The resulting loss of vehicle control can lead to an accident.
NOTE
For safety, inspect tire tread regularly and replace the tires before their tread wear indicators become visible.
See also:
Unfastening the rear center seatbelt
Push the release button of the center seatbelt buckle (on the left-hand side) to unfasten the seatbelt. 1. Insert a key or other hard pointed object into the slot in the connector (buckle) ...
Storage compartment
CAUTION ● Always keep the storage compartment closed while driving to reduce the risk of injury in the event of sudden stops or an accident. ● Do not store spray cans, containers with ...
Bulb chart
NOTE Lights A and B are the LED (Light Emitting Diode) type. Consult your SUBARU dealer for replacement. WARNING Bulbs may become very hot while illuminated. Before replacing bulbs, turn of ...