Wear indicators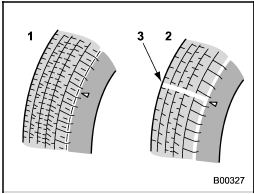 1) New tread
2) Worn tread
3) Tread wear indicator
Each tire incorporates a tread wear indicator, which becomes visible when the depth of the tread grooves decreases to 0.063 in (1.6 mm). A tire must be replaced when the tread wear indicator appears as a solid band across the tread.

When a tire's tread wear indicator becomes visible, the tire is worn beyond the acceptable limit and must be replaced immediately. With a tire in this condition, driving at high speeds in wet weather can cause the vehicle to hydroplane.
The resulting loss of vehicle control can lead to an accident.
NOTE
For safety, inspect tire tread regularly and replace the tires before their tread wear indicators become visible.
See also:
Types of tires
You should be familiar with type of tires present on your vehicle. ...
Driving when tired or sleepy
When you are tired or sleepy, your reaction time will be delayed and your perception, judgment and attentiveness will be impaired. If you drive when tired or sleepy, your, your passengers' and other ...
Sport (S) mode
For all-around performance driving The Sport (S) mode provides the engine power desired by those who want to make the driving experience their own personal adventure. The linear acceleration charact ...