Wear indicators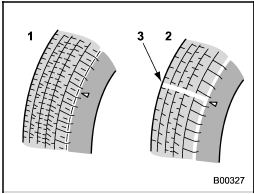 1) New tread
2) Worn tread
3) Tread wear indicator
Each tire incorporates a tread wear indicator, which becomes visible when the depth of the tread grooves decreases to 0.063 in (1.6 mm). A tire must be replaced when the tread wear indicator appears as a solid band across the tread.

When a tire's tread wear indicator becomes visible, the tire is worn beyond the acceptable limit and must be replaced immediately. With a tire in this condition, driving at high speeds in wet weather can cause the vehicle to hydroplane.
The resulting loss of vehicle control can lead to an accident.
NOTE
For safety, inspect tire tread regularly and replace the tires before their tread wear indicators become visible.
See also:
Synthetic leather upholstery
The synthetic leather material used on the SUBARU may be cleaned using mild soap or detergent and water, after first vacuuming or brushing away loose dirt. Allow the soap to soak in for a few minu ...
Driving with a trailer
- You should allow for considerably more stopping distance when towing a trailer. Avoid sudden braking because it may result in skidding or jackknifing and loss of control. - Avoid abrupt star ...
Changing a flat tire
WARNING ● Do not jack up the vehicle on an incline or a loose road surface. The jack can come out of the jacking point or sink into the ground and this can result in a serious accident. ...