Checking the fluid level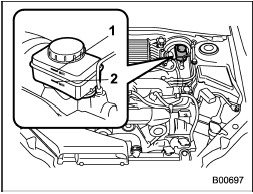 1) "MAX" level mark
2) "MIN" level mark
Check the fluid level monthly.
Check the fluid level on the outside of the reservoir. If the level is below "MIN", add the recommended brake fluid to "MAX".
Use only brake fluid from a sealed container.

• Never let brake fluid contact your eyes because brake fluid can be harmful to your eyes. If brake fluid gets in your eyes, immediately flush them thoroughly with clean water. For safety, when performing this work, wearing eye protection is advisable.
• Brake fluid absorbs moisture from the air. Any absorbed moisture can cause a dangerous loss of braking performance.
• If the vehicle requires frequent refilling, there may be a leak. If you suspect a problem, have the vehicle checked at your SUBARU dealer.

• When adding brake fluid, be careful not to allow any dirt into the reservoir.
• Never splash the brake fluid over painted surfaces or rubber parts.
Alcohol contained in the brake fluid may damage them.
• Be careful not to spill brake fluid when adding it. If brake fluid touches the exhaust pipe, it may cause a bad smell, smoke, and/or a fire. If brake fluid gets on the exhaust pipe, be sure to wipe it off.
See also:
To engage the service mode
Turn the ignition switch to the "ON" position, depress and hold the brake pedal, then press and release the "" button on the remote control transmitter three times. The system will pause for 1 ...
Folder selection
NOTE - Selecting folders in this way is possible only within a single disc. - Only MP3/WMA/AAC folders are recognized when an attempt to select the next or previous folder is made. If no ap ...
Seatbelt safety tips
• All persons in the vehicle should fasten their seatbelts BEFORE the vehicle starts to move. Otherwise, the possibility of serious injury becomes greater in the event of a sudden stop or accident ...