Checking the fluid level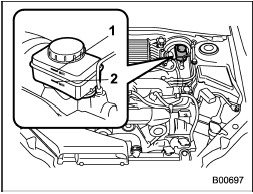 1) "MAX" level mark
2) "MIN" level mark
Check the fluid level monthly.
Check the fluid level on the outside of the reservoir. If the level is below "MIN", add the recommended brake fluid to "MAX".
Use only brake fluid from a sealed container.

• Never let brake fluid contact your eyes because brake fluid can be harmful to your eyes. If brake fluid gets in your eyes, immediately flush them thoroughly with clean water. For safety, when performing this work, wearing eye protection is advisable.
• Brake fluid absorbs moisture from the air. Any absorbed moisture can cause a dangerous loss of braking performance.
• If the vehicle requires frequent refilling, there may be a leak. If you suspect a problem, have the vehicle checked at your SUBARU dealer.

• When adding brake fluid, be careful not to allow any dirt into the reservoir.
• Never splash the brake fluid over painted surfaces or rubber parts.
Alcohol contained in the brake fluid may damage them.
• Be careful not to spill brake fluid when adding it. If brake fluid touches the exhaust pipe, it may cause a bad smell, smoke, and/or a fire. If brake fluid gets on the exhaust pipe, be sure to wipe it off.
See also:
Subaru Legacy 2.5GT: 265 Turbocharged Horses
The new-generation Legacy 2.5GT models get a significant boost in performance from the revised 2.5-liter turbocharged / intercooled engine (based on the Impreza WRX engine) teamed to a new standar ...
To open the trunk lid from inside
Press the trunk lid opener switch for more than 1 second. ...
Replacing bulbs
WARNING Bulbs may become very hot while illuminated. Before replacing bulbs, turn off the lights and wait until the bulbs cool down, Otherwise, there is the risk of sustaining a burn injury. CAU ...