Engine oil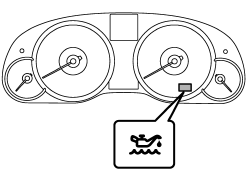 NOTE
● When the engine low oil level warning light illuminates, have your vehicle inspected by your SUBARU dealer as soon as possible.
● The engine oil consumption rate is not stabilized, and therefore cannot be determined until the vehicle has traveled at least several thousand miles (kilometers). Even after break-in, when the vehicle is used under severe driving conditions such as those mentioned in the Warranty and Maintenance Booklet, engine oil is consumed or deteriorated more quickly than under normal driving conditions. If you drive your vehicle under these severe conditions, you should check the oil level at least at every second fuel fill-up time, and change the oil more frequently. Please refer to the Warranty and Maintenance Booklet for more details.
● If the oil consumption rate seems abnormally high after the break-in period, for example more than 1 quart per 1,200 miles or 1 liter per 2,000 kilometers, we recommend that you contact your SUBARU dealer.
See also:
Synthetic oil
You should use synthetic engine oil that meets the same requirements given for conventional engine oil. When using synthetic oil, you must use oil of the same classification, viscosity and grade shown ...
When "No song" is displayed (type D audio)
This message is displayed when no playable audio files are in the connected USB storage device/iPod®. Connect a USB storage device/iPod® that has playable audio files stored in it. ...
FM/AM radio operation
Press the "FM" or "AM" button when the radio is off to turn on the radio. ...