Checking the fluid level when the fluid is hot
1. Drive the vehicle several miles to raise the temperature of the transmission fluid up to normal operating temperature; 158 to 1768F (70 to 808C) is normal.
2. Park the vehicle on a level surface and set the parking brake.
3. First shift the select lever in each position. Then shift it in the "P" position, and run the engine at idling speed.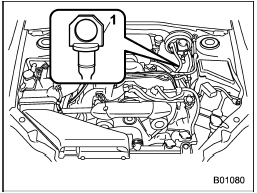 1) Yellow handle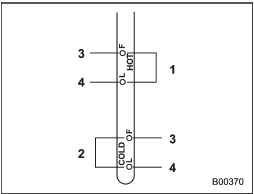 1) HOT range
2) COLD range
3) Upper level
4) Lower level
4. Pull out the level gauge and check the fluid level on the gauge. If it is below the lower level on the "HOT" range, add the recommended automatic transmission fluid up to the upper level.
See also:
Meter/Gauge needle illumination setting (turbo models except STI)
When the setting is activated or deactivated, the meter needles and gauge needles illuminate and turn off as follows. Activated: When the driver's door is opened while the ignition switch is in the ...
Locking the phonebook
1. Select the "SETUP" menu. 2. Select the "SECURITY" menu. 3. Select "PHBK LOCK" by operating the "TUNE/TRACK/CH" dial or say "PHONEBOOK LOCK". Then "CURRENT PIN?" is displayed. 4. Input the PIN co ...
Before checking or servicing in the engine compartment
- Always stop the engine and set the parking brake firmly to prevent the vehicle from moving. - Always let the engine cool down. Engine parts become very hot when the engine is running and ...