Checking the oil level
Check the engine oil level at each fuel stop.
1. Park the vehicle on a level surface and stop the engine.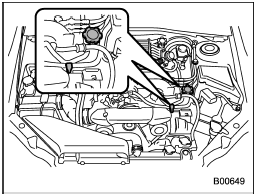 2. Pull out the level gauge that has the У

Ф symbol on top, wipe it clean, and insert it again.
3. Be sure the level gauge is correctly inserted until it stops.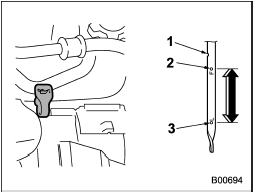 1) Notch
2) Upper level
3) Lower level
4. Pull out the level gauge again and check the oil level on it. If it is below the lower level, add oil to bring the level up to the upper level.

Х Use only engine oil with the recommended grade and viscosity.
Х Be careful not to spill engine oil when adding it. If oil touches the exhaust pipe, it may cause a bad smell, smoke, and/or a fire. If engine oil gets on the exhaust pipe, be sure to wipe it off.
Х If the level gauge is not pulled out easily, twist the level gauge right and left, then pull it out. Otherwise, you may be injured accidentally straining yourself.
If you check the oil level just after stopping the engine, wait a few minutes for the oil to drain back into the oil pan before checking the level.
Just after driving or while the engine is warm, the engine oil level reading may be in a range between the upper level and the notch mark. This is caused by thermal expansion of the engine oil.
To prevent overfilling the engine oil, do not add any additional oil above the upper level when the engine is cold.
See also:
Cruise control indicator light
The cruise control indicator light illuminates when the ignition switch is turned to the УONФ position and turns off after approximately 3 seconds. The light illuminates when the УCRUISEФ main sw ...
If you have accidentally triggered the alarm system
To stop the alarm Do any of the following operations: - Press any button on the remote transmitter. - Turn the ignition switch to the УONФ position. ...
All season tires
All season tires are designed to provide an adequate measure of traction, handling and braking performance in year-round driving including snowy and icy road conditions. However all season tir ...