Checking the oil level
Check the engine oil level at each fuel stop.
1. Park the vehicle on a level surface and stop the engine.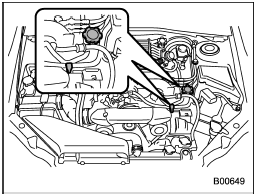 2. Pull out the level gauge that has the "

" symbol on top, wipe it clean, and insert it again.
3. Be sure the level gauge is correctly inserted until it stops.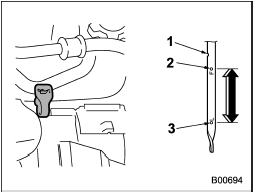 1) Notch
2) Upper level
3) Lower level
4. Pull out the level gauge again and check the oil level on it. If it is below the lower level, add oil to bring the level up to the upper level.

• Use only engine oil with the recommended grade and viscosity.
• Be careful not to spill engine oil when adding it. If oil touches the exhaust pipe, it may cause a bad smell, smoke, and/or a fire. If engine oil gets on the exhaust pipe, be sure to wipe it off.
• If the level gauge is not pulled out easily, twist the level gauge right and left, then pull it out. Otherwise, you may be injured accidentally straining yourself.
If you check the oil level just after stopping the engine, wait a few minutes for the oil to drain back into the oil pan before checking the level.
Just after driving or while the engine is warm, the engine oil level reading may be in a range between the upper level and the notch mark. This is caused by thermal expansion of the engine oil.
To prevent overfilling the engine oil, do not add any additional oil above the upper level when the engine is cold.
See also:
Operation
If the driver and/or front passenger have/ has not yet fastened the seatbelt(s) when the ignition switch is turned to the "ON" position, the seatbelt warning light(s) will flash for 6 seconds, to ...
Most common causes of corrosion
The most common causes of corrosion are: 1. The accumulation of moisture retaining dirt and debris in body panel sections, cavities, and other areas. 2. Damage to paint and other protective ...
Manual tuning
Turn the "TUNE/TRACK/CH" dial clockwise to increase the tuning frequency and turn the "TUNE/TRACK/CH" dial counterclockwise to decrease it. Each time the dial is turned, the frequency interval ca ...