Scan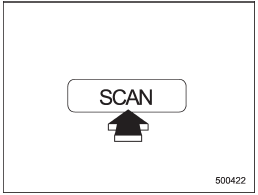 Type A and B audio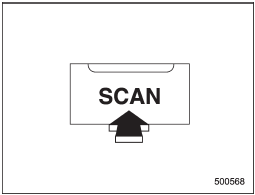 Type C audio
The scan mode lets you listen to the first 10 seconds of each track/file in succession.
Press the "SCAN" button to start scanning upward beginning with the track/ file(s) following the currently selected one.
After all track/file(s) in the disk/folder have been scanned, normal playback will be resumed. To cancel the scan mode, press the "SCAN" button again.
NOTE
The scan mode will be cancelled if you perform any of the following steps.
• Press the "RPT/RDM" button
• Turn the "TUNE/TRACK/CH" dial
• Press the "

" or "

" side of the "FOLDER/PTY/CAT" button
• Press the "

" button
• Press the disc select button (type B audio)
• Select the radio or AUX mode
• Press the "LOAD" button when there is free space in the CD magazine (type B audio)
• Press the "PTY/CAT" button
• Turn off the power of the audio equipment
• Turn the ignition switch to the "LOCK" position
See also:
Adverse safety consequences of under-inflation
Driving at high speeds with excessively low tire pressures can cause the tires to flex severely and to rapidly become hot. A sharp increase in temperature could cause tread separation, and failure ...
Driving tips for AWD vehicles
WARNING ● Always maintain a safe driving speed according to the road and weather conditions in order to avoid having an accident on a sharp turn, during sudden braking or under other simila ...
Selecting preset channels
Presetting a channel with a preset button allows you to select that channel in a single operation. Up to six SAT1, SAT2 and SAT3 channels each may be preset. ...