Cleaning ventilation grille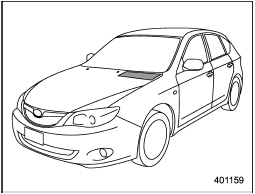 Cleaning ventilation grille
Always keep the front ventilation inlet grille free of snow, leaves, or other obstructions to ensure efficient heating and defrosting.
Since the condenser is located in front of the radiator, this area should be kept clean because cooling performance is impaired by any accumulation of insects and leaves on the condenser.
See also:
Deactivating the REV alarm system
To deactivate the REV indicator light and buzzer functions of the REValarm system, set the thousands place of the alarm-level engine speed to "–". ...
State emission testing (U.S. only)
At state inspection time, remember to tell your inspection or service station in advance not to place your SUBARU AWD vehicle on a two-wheel dynamometer. Otherwise, serious transmission damage will r ...
Side ventilators
Side ventilators 1) Open 2) Close 3) Thumb-wheel Move the tab to adjust the flow direction. To open or close the ventilator, turn the thumb-wheel up or down. ...