Cleaning ventilation grille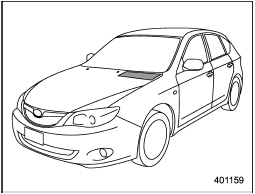 Cleaning ventilation grille
Always keep the front ventilation inlet grille free of snow, leaves, or other obstructions to ensure efficient heating and defrosting.
Since the condenser is located in front of the radiator, this area should be kept clean because cooling performance is impaired by any accumulation of insects and leaves on the condenser.
See also:
Adverse safety consequences of under-inflation
Driving at high speeds with excessively low tire pressures can cause the tires to flex severely and to rapidly become hot. A sharp increase in temperature could cause tread separation, and failure of ...
Flat tires
If you have a flat tire while driving, never brake suddenly; keep driving straight ahead while gradually reducing speed. Then slowly pull off the road to a safe place. ...
Driver's seat
1) Seat position forward/backward control switch To adjust the seat forward or backward, move the control switch forward or backward. During forward/backward adjustment of the seat, you cannot ad ...