Temperature control dial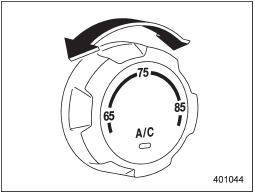 Temperature control dial
This dial is used to set the desired interior temperature. With the dial set to your desired temperature, the system automatically adjusts the temperature of air supplied from the outlets such that the desired temperature is achieved and maintained.
If the dial is turned fully counterclockwise, the system gives maximum cooling performance.
If the dial is turned fully clockwise, the system gives maximum heating performance.
See also:
OUTBACK
Your SUBARU can be driven on ordinary roads or off-road. But please keep in mind that an AWD SUBARU is a passenger vehicle and is neither a conventional offroad vehicle nor an all-terrain vehicle. If ...
Trailer towing tips
CAUTION ● Never exceed 45 mph (72 km/h) when towing a trailer in hilly country on hot days. ● When towing a trailer, steering, stability, stopping distance and braking performance wi ...
Shift lock release using the shift lock release button
Perform the following procedure to release the shift lock. 1. Apply the parking brake and stop the engine. 2. Remove the shift lock cover using a flat-head screwdriver. 3. While depressing the ...