Temperature gauge (turbo models)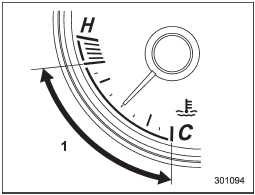 1) Normal operating range
The temperature gauge shows engine coolant temperature when the ignition switch is in the "ON" position.
The coolant temperature will vary in accordance with the outside temperature and driving conditions.
We recommend that you drive moderately until the pointer of the temperature gauge reaches near the middle of the range.
Engine operation is optimum with the engine coolant at this temperature range and high revving operation when the engine is not warmed up enough should be avoided.

If the pointer exceeds the normal operating range, safely stop the vehicle as soon as possible.
Refer to "Engine overheating".
See also:
Engine coolant
The indicated coolant quantity is only a guideline. The necessary quantity for replacement may differ slightly depending on the temperature and other factors. For more details about maintenance ...
2.5 L turbo models
1) Power steering fluid reservoir (page 11-27) 2) Manual transmission oil level gauge (page 11-23) 3) Clutch fluid reservoir (page 11-29) 4) Brake fluid reservoir (page 11-28) 5) Fuse box (page ...
Approved engine oil
Always use the SUBARU approved engine oil. For further details, please contact your SUBARU dealer. If the approved engine oil is unavailable, use the alternative engine oil described on the next ...