Temperature gauge (turbo models)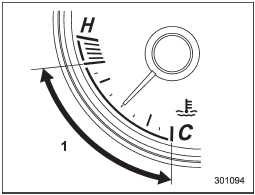 1) Normal operating range
The temperature gauge shows engine coolant temperature when the ignition switch is in the "ON" position.
The coolant temperature will vary in accordance with the outside temperature and driving conditions.
We recommend that you drive moderately until the pointer of the temperature gauge reaches near the middle of the range.
Engine operation is optimum with the engine coolant at this temperature range and high revving operation when the engine is not warmed up enough should be avoided.

If the pointer exceeds the normal operating range, safely stop the vehicle as soon as possible.
Refer to "Engine overheating".
See also:
Anti-entrapment function (type A)
- Never attempt to test this function using fingers, hands or other parts of your body. - The anti-entrapment function may not operate properly if some object gets trapped just before t ...
Windshield wiper and washer switches
The wiper operates only when the ignition switch is in the "ON" or "Acc" position. ...
Turn signal indicator lights
These lights show the operation of the turn signal or lane change signal. If the indicator lights do not blink or blink rapidly, the turn signal bulb may be burned out. Replace the bulb as ...