Temperature gauge (turbo models)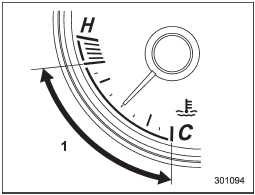 1) Normal operating range
The temperature gauge shows engine coolant temperature when the ignition switch is in the "ON" position.
The coolant temperature will vary in accordance with the outside temperature and driving conditions.
We recommend that you drive moderately until the pointer of the temperature gauge reaches near the middle of the range.
Engine operation is optimum with the engine coolant at this temperature range and high revving operation when the engine is not warmed up enough should be avoided.

If the pointer exceeds the normal operating range, safely stop the vehicle as soon as possible.
Refer to "Engine overheating".
See also:
To remove the cover housing
1. Rewind the cover. 2. Hold down the button on the righthand rear quarter panel and lift up the right-hand cover housing. 3. Remove the cover housing. ...
Headlights
To turn on the headlights, turn the knob on the end of the turn signal lever. first position Instrument panel illumination, tail lights, front side marker lights and license plate lights are on ...
Brake system warning light
WARNING ● Driving with the brake system warning light on is dangerous. This indicates your brake system may not be working properly. If the light remains illuminated, have the brakes insp ...