Sun shade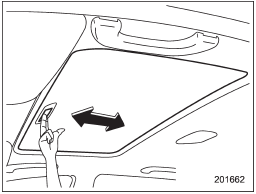 Sun shade
The sun shade can be slid forward or backward by hand while the moonroof is closed.
If the moonroof is opened, the sun shade also moves back.
See also:
Adverse safety consequences of overloading on handling and stopping and on tires
Overloading could affect vehicle handling, stopping distance, vehicle and tire as shown in the following. This could lead to an accident and possibly result in severe personal injury. ● Veh ...
Driving tips
● On a road surface where there is a risk of wheelspin (for example, a snow- or gravel-covered road), you can pull away from a standstill safely and easily by first selecting the 2nd gear of ...
Making a phone call from speed dial
It is possible to select a phone number from speed dial registered with the invehicle equipment to make a phone call. Preset buttons 1. Press the preset button in which the desired number is registe ...