Tilting moonroof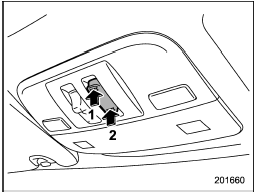 Tilting moonroof
1) Raise
2) Lower
The tilting function will only operate when the moonroof is fully closed.
Push the rear side of the "UP/DOWN" switch to raise the moonroof.
Push the front side of the "UP/DOWN" switch to lower the moonroof.
Release the switch after the moonroof has been raised or has been lowered completely.
Pushing the switch continuously may cause damage to the moonroof.
NOTE
One-touch operation does not take place when the moonroof is lowered.
Push the switch continuously to raise and lower the moonroof.
See also:
Compass zone adjustment
Compass calibration zones 1. Refer to the "Compass calibration zones" map shown above to verify that the compass zone setting is correct for your geographical location. 2. Press and hold ...
Sun shade
Sun shade The sun shade can be slid forward or backward by hand while the moonroof is closed. If the moonroof is opened, the sun shade also moves back. ...
Headlight indicator light
This indicator light illuminates under the following conditions. ● when the light switch is turned to the "" or "" position ● when the light switch is in the "AUTO" position and the ...