To arm the system using remote transmitter
1. Close all windows.
2. Remove the key from the ignition switch.
3. Open the doors and get out of the vehicle.
4. Make sure that the engine hood (and the trunk lid on the 4-door) are locked.
5. Close all doors (and the rear gate on the 5-door).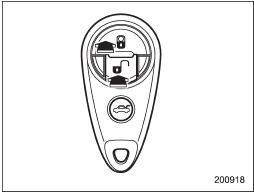 : Press to Arm the system.


: Press to Disarm the system.

Turbo models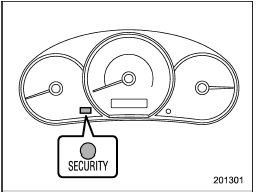 Non-turbo models
6. Briefly press the "
" button (for less than 2 seconds). All doors (and the rear gate on the 5-door) will lock, an electronic chirp will sound once, the turn signal lights will flash once, and the security indicator light will start flashing rapidly. After rapid flashing for 30 seconds (standby time), the indicator lights will then flash slowly (twice approximately every 2 seconds), indicating that the system has been armed for surveillance.
If any of the doors, (rear gate or trunk lid) is not fully closed, an electronic chirp sounds five times, the turn signal lights flash five times to alert you that the doors (or the rear gate) are not properly closed.
When you close the door, the system will automatically arm and doors will automatically lock.
See also:
Headlights
To turn on the headlights, turn the knob on the end of the turn signal lever. first position Instrument panel illumination, tail lights, front side marker lights and license plate lights are on ...
Recommended grade and viscosity
Each oil manufacturer has its own base oils and additives. Never use different brands together. For details, refer to "Manual transmission, front differential and rear differential gear oil" F12-6 ...
Waxing and polishing
Always wash and dry the vehicle before waxing and polishing. Use a good quality polish and wax and apply them according to the manufacturer's instructions. Wax or polish when the painted surface is ...