Security ID plate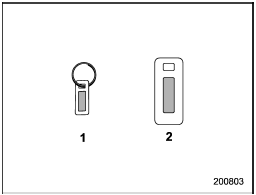 1) Key number plate
2) Security ID plate
The security ID is stamped on the security ID plate attached to the key set. Write down the security ID and keep it in another safe place, not in the vehicle.
This number is needed to make a replacement key if you lose your key or lock it inside the vehicle.
This number is also needed for replacement or repair of the engine control unit, integrated unit, and combination meter.
See also:
Checking the brake pedal reserve distance
1) More than 2.56 in (65 mm) Depress the pedal with a force of approximately 66 lbf (294 N, 30 kgf) and measure the distance between the upper surface of the pedal pad and the floor. When the me ...
PTY (Program type) group tuning (only FM reception)
Type A and B audio Type C audio Press the "PTY/CAT" button to change to the PTY selection mode. At this time, the PTY group that you are currently listening to will be displayed for 10 seconds. In t ...
Safety warnings
You will find a number of WARNINGs, CAUTIONs and NOTEs in this manual. These safety warnings alert you to potential hazards that could result in injury to you or others. Please read these safety ...