Inspection
Perform the following steps at least twice a year to check the release handle for correct operation.
1. Open the trunk lid.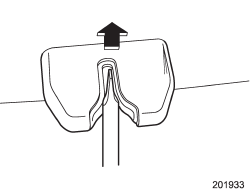 2. Use a flat-head screwdriver with a thin blade. Slide the flat-head screwdriver blade from the slit aperture of the lock assembly fully to the end until you hear a click.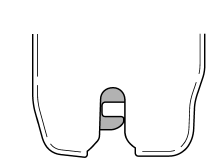 This places the latch in the locked position.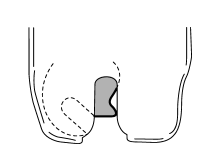 3. Move the release handle, from outside the vehicle, in the direction of the arrow to check if the latch is released.
If the latch is not released, contact your SUBARU dealer.
In that case, use the key to release the latch, then close the trunk lid.
Also, if the movement of the release handle feels restricted or not entirely smooth during operation, or the handle and/or handle base is cracked, contact your SUBARU dealer.
See also:
California fuel
If your vehicle was certified to California Emission Standards as indicated on the underhood tune-up label, it is designed to optimize engine and emission control system performance with gasoline ...
Non-turbo models
Your vehicle is equipped with "all season tires" as original equipment, which are designed to provide an adequate measure of traction, handling and braking performance in year-round driving. In winter ...
The Inside
The interior is quiet enough at idle that one time I didn't even realize it was running. That's when I recognized Subaru finally seems to have licked this engine's chronic idle vibration. In this ...