Inspection
Perform the following steps at least twice a year to check the release handle for correct operation.
1. Open the trunk lid.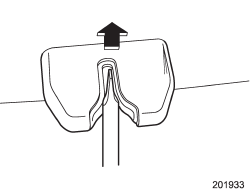 2. Use a flat-head screwdriver with a thin blade. Slide the flat-head screwdriver blade from the slit aperture of the lock assembly fully to the end until you hear a click.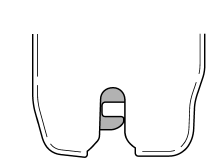 This places the latch in the locked position.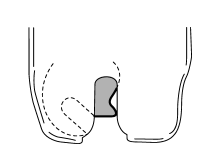 3. Move the release handle, from outside the vehicle, in the direction of the arrow to check if the latch is released.
If the latch is not released, contact your SUBARU dealer.
In that case, use the key to release the latch, then close the trunk lid.
Also, if the movement of the release handle feels restricted or not entirely smooth during operation, or the handle and/or handle base is cracked, contact your SUBARU dealer.
See also:
To install the cover housing
1. Remove the cover of the retainers by prying on the edge with a flat-head screwdriver. 2. Insert the projections located on the both ends of the sleeve into the recesses of the reta ...
Fuse panel located in the passenger compartment
...
Main fuse
Main fuse box The main fuses are designed to melt during an overload to prevent damage to the wiring harness and electrical equipment. Check the main fuses if any electrical component fails ...