Components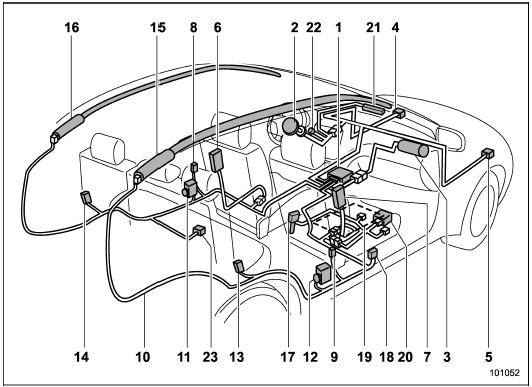 Components
1) Airbag control module (including impact sensors)
2) Frontal airbag module (driver's side)
3) Frontal airbag module (front passenger's side)
4) Front sub sensor (left-hand side)
5) Front sub sensor (right-hand side)
6) Side airbag module (driver's side)
7) Side airbag module (front passenger's side)
8) Side airbag sensor (center pillar left-hand side)
9) Side airbag sensor (center pillar righthand side)
10) Airbag wiring
11) Seatbelt pretensioner (driver's side)
12) Seatbelt pretensioner (front passenger's side)
13) Curtain airbag sensor (rear wheel house right-hand side)
14) Curtain airbag sensor (rear wheel house left-hand side)
15) Curtain airbag module (right side)
16) Curtain airbag module (left side)
17) Seatbelt buckle switch (front passenger's side)
18) Front passenger's seatbelt tension sensor
19) Front passenger's occupant detection system weight sensor
20) Front passenger's occupant detection control module
21) Front passenger's frontal airbag ON and OFF indicator
22) SRS airbag system warning light
23) Satellite safing sensor (under the rear center seat)
See also:
Operation
If the driver and/or front passenger have/ has not yet fastened the seatbelt(s) when the ignition switch is turned to the "ON" position, the seatbelt warning light(s) will flash for 6 seconds, to ...
Fan speed control dial
Fan speed control dial The fan operates only with the ignition switch in the ON position. The fan speed control dial is used to select the AUTO (automatic control) mode or to select the desired fan s ...
Display selection
Type A and B audio Type C audio If you press the "TEXT" button during playback, the indication will change to the next one in the following sequence. For CD-DA: For MP3/WMA/AAC: For iPod®: ...