Components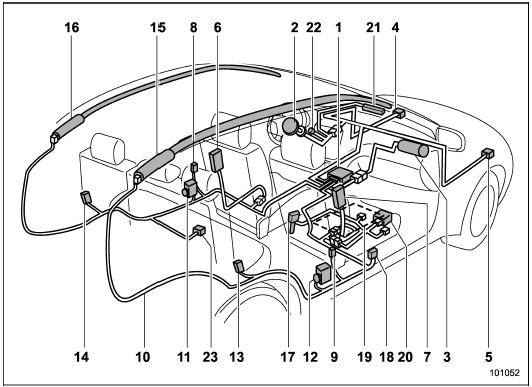 Components
1) Airbag control module (including impact sensors)
2) Frontal airbag module (driver's side)
3) Frontal airbag module (front passenger's side)
4) Front sub sensor (left-hand side)
5) Front sub sensor (right-hand side)
6) Side airbag module (driver's side)
7) Side airbag module (front passenger's side)
8) Side airbag sensor (center pillar left-hand side)
9) Side airbag sensor (center pillar righthand side)
10) Airbag wiring
11) Seatbelt pretensioner (driver's side)
12) Seatbelt pretensioner (front passenger's side)
13) Curtain airbag sensor (rear wheel house right-hand side)
14) Curtain airbag sensor (rear wheel house left-hand side)
15) Curtain airbag module (right side)
16) Curtain airbag module (left side)
17) Seatbelt buckle switch (front passenger's side)
18) Front passenger's seatbelt tension sensor
19) Front passenger's occupant detection system weight sensor
20) Front passenger's occupant detection control module
21) Front passenger's frontal airbag ON and OFF indicator
22) SRS airbag system warning light
23) Satellite safing sensor (under the rear center seat)
See also:
Winter (snow) tires
Winter tires are best suited for driving on snow-covered and icy roads. However winter tires do not perform as well as summer tires and all season tires on roads other than snow-covered and icy roads. ...
Roof antenna
- Be sure to lower the antenna rod before entering garages, parking towers and other locations with low ceilings. - Remove the antenna rod before washing your car at a car wash. If the ...
Airflow mode selection button
Select the desired airflow mode by pressing the airflow mode selection button. The selected airflow mode is shown on the display. There are four airflow modes that activate the following air outl ...