Components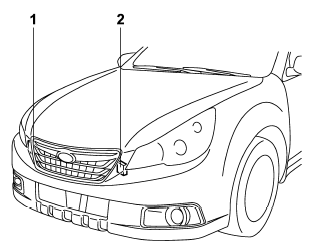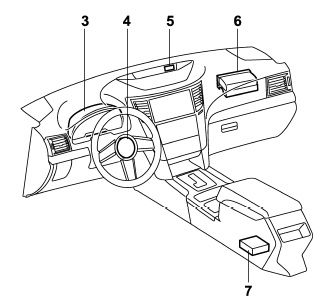 1) Front sub sensor (right-hand side) 2) Front sub sensor (left-hand side) 3) SRS airbag system warning light 4) Frontal airbag module (driver's side) 5) Front passenger's frontal airbag ON and OFF indicator 6) Frontal airbag module (front passenger's side) 7) Airbag control module (including impact sensor [all models] and rollover sensor [Outback])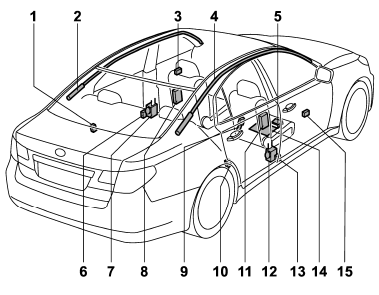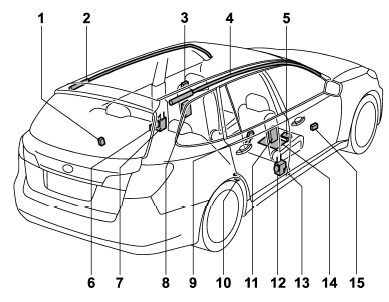 1) Rear wheel house impact sensor (lefthand side) 2) Curtain airbag module (left-hand side) 3) Front door impact sensor (left-hand side) 4) Curtain airbag module (right-hand side) 5) Front passenger's occupant detection control module 6) Center pillar impact sensor (left-hand side) 7) Seatbelt pretensioner (left-hand side) 8) Side airbag module (left-hand side) 9) Seatbelt buckle switch (right-hand side) 10) Rear wheel house impact sensor (righthand side) 11) Side airbag module (right-hand side) 12) Seatbelt pretensioner (right-hand side) 13) Center pillar impact sensor (right-hand side) 14) Front passenger's occupant detection system weight sensor 15) Front door impact sensor (right-hand side)
See also:
Automatic transmission
The automatic transmission is electronically controlled and provides 4 forward speeds and 1 reverse speed. Also, it has a manual mode and a SPORT mode. Do not shift from the "P" or "N" position i ...
Outside temperature indicator
1) U.S.-spec. models 2) Except U.S.-spec. models The outside temperature indicator shows the outside temperature in a range from −22 to 1228F (−30 to 508C). The indicator can give a f ...
Driving tips
• On a road surface where there is a risk of wheelspin (for example, a snow- or gravel-covered road), you can pull away from a standstill (safely and easily) by first selecting the 2nd gear of the man ...