Components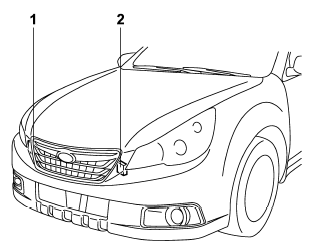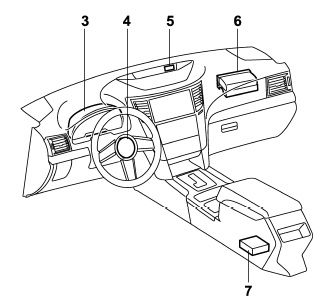 1) Front sub sensor (right-hand side) 2) Front sub sensor (left-hand side) 3) SRS airbag system warning light 4) Frontal airbag module (driver's side) 5) Front passenger's frontal airbag ON and OFF indicator 6) Frontal airbag module (front passenger's side) 7) Airbag control module (including impact sensor [all models] and rollover sensor [Outback])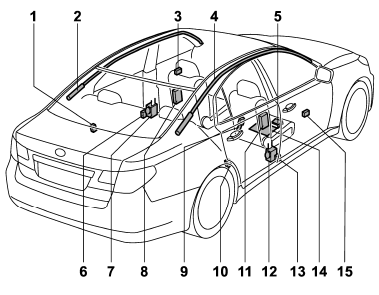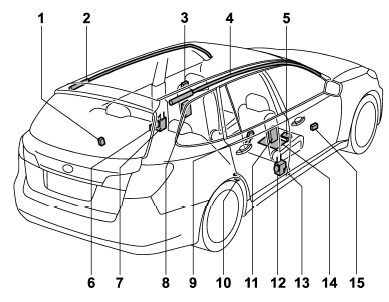 1) Rear wheel house impact sensor (lefthand side) 2) Curtain airbag module (left-hand side) 3) Front door impact sensor (left-hand side) 4) Curtain airbag module (right-hand side) 5) Front passenger's occupant detection control module 6) Center pillar impact sensor (left-hand side) 7) Seatbelt pretensioner (left-hand side) 8) Side airbag module (left-hand side) 9) Seatbelt buckle switch (right-hand side) 10) Rear wheel house impact sensor (righthand side) 11) Side airbag module (right-hand side) 12) Seatbelt pretensioner (right-hand side) 13) Center pillar impact sensor (right-hand side) 14) Front passenger's occupant detection system weight sensor 15) Front door impact sensor (right-hand side)
See also:
OUTBACK
Your SUBARU can be driven on ordinary roads or off-road. But please keep in mind that an AWD SUBARU is a passenger vehicle and is neither a conventional offroad vehicle nor an all-terrain vehicle. If ...
Vehicle Dynamics Control warning light
CAUTION The Vehicle Dynamics Control system provides its ABS control through the electrical circuit of the ABS system. Accordingly, if the ABS is inoperative, the Vehicle Dynamics Control system ...
Wiper and washer
WARNING In freezing weather, do not use the windshield washer until the windshield is sufficiently warmed by the defroster. Otherwise the washer fluid can freeze on the windshield, blocking your v ...