Anchorage location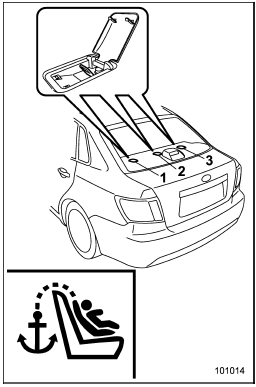 4-door models
1) For left seat
2) For center seat (for the Latin American models, a tether anchorage is not provided in this center location.)
3) For right seat
Two or three upper anchorages are installed on the rear shelf behind the rear seat.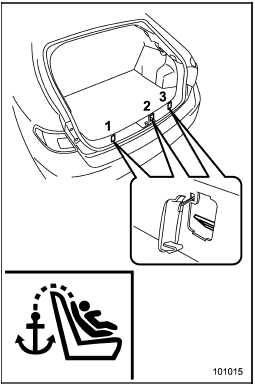 5-door models
1) For left seat
2) For center seat (for the Latin American models, a tether anchorage is not provided in this center location.)
3) For right seat
There are two or three anchorages on the rear wall of the cargo area.
See also:
Alarm system
It blinks to show the driver the operational status of the alarm system. For detailed information, refer to "Alarm system" F2- 15. ...
Driving tips
Do not drive with your foot resting on the clutch pedal and do not use the clutch to hold your vehicle at a standstill on an upgrade. Either of those actions may cause clutch damage. Do not drive ...
Preparing to drive
You should perform the following checks and adjustments every day before you start driving. 1. Check that all windows, mirrors, and lights are clean and unobstructed. 2. Check the appearance a ...