Expectant mothers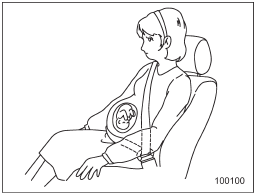 Expectant mothers
Expectant mothers also need to use the seatbelts. They should consult their doctor for specific recommendations. The lap belt should be worn securely and as low as possible over the hips, not over the waist.
See also:
To increase the speed (by accelerator pedal)
1. Depress the accelerator pedal to accelerate the vehicle to the desired speed. 2. Push the "SET/COAST" button once. Now the desired speed is set and the vehicle will keep running at that speed wit ...
Cooling fan, hose and connections
Your vehicle employs an electric cooling fan which is thermostatically controlled to operate when the engine coolant reaches a specific temperature. If the radiator cooling fan does not operate eve ...
Type B inside mirror (if equipped)
1) Electronic compass display 2) Rear view image display 3) HomeLink® button 1 4) HomeLink® button 2 5) Function indicator 6) HomeLink® button 3 7) Photosensor 8) Power button 9) Compass but ...