Rear windows side seating position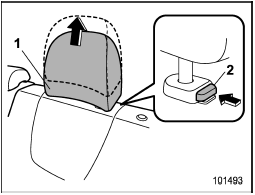 Rear windows side seating position
1) Head restraint
2) Release button
To remove:
While pressing the release button, pull out the head restraint.
To install:
Install the head restraint into the holes that are located on the top of the seatback until the head restraint locks.
See also:
Brake pad and lining
While maintaining a speed of 30 to 40 mph (50 to 65 km/h), step on the brake pedal lightly. Repeat this five or more times. ...
Lubricants
Engine oil For the checking, adding and replacing procedure or other details, refer to "Engine oil" F11-12. NOTE The procedure for changing the engine oil and oil filter should be performed by ...
Adverse safety consequences of under-inflation
Driving at high speeds with excessively low tire pressures can cause the tires to flex severely and to rapidly become hot. A sharp increase in temperature could cause tread separation, and failure ...