Rear windows side seating position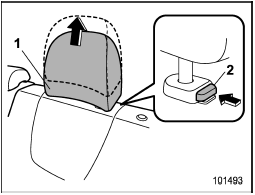 Rear windows side seating position
1) Head restraint
2) Release button
To remove:
While pressing the release button, pull out the head restraint.
To install:
Install the head restraint into the holes that are located on the top of the seatback until the head restraint locks.
See also:
Charge warning light
If this light illuminates when the engine is running, it may indicate that the charging system is not working properly. If the light illuminates while driving or does not turn off after the engine ...
Initializing the registered data
To initialize the registered data, perform the following procedure. 1. Select the "INITIALIZE" menu. 2. Select the "CONFIRM" menu. First "PLEASE WAIT", then "INITIALIZED" is displayed. The reg ...
Warning and indicator lights
Several of the warning and indicator lights illuminate momentarily and then go out when the ignition switch is initially turned to the "ON" position. This permits checking the operation of the bul ...