Rear windows side seating position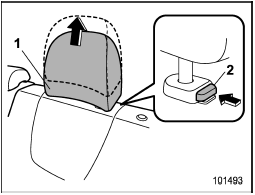 Rear windows side seating position
1) Head restraint
2) Release button
To remove:
While pressing the release button, pull out the head restraint.
To install:
Install the head restraint into the holes that are located on the top of the seatback until the head restraint locks.
See also:
To hook the top tether
CAUTION Always remove the head restraint when mounting a child restraint system with a top tether. Failure to do so may prevent the top tether from being fastened tightly. Legacy 1. Fold down the ...
Using a warm water washer
• Keep a good distance of 12 in (30 cm) or more between the washer nozzle and the vehicle. • Do not wash the same area continuously. • If a stain will not come out easily, wash by hand. Some warm wa ...
Control panel
Control panel 1) Temperature control dial 2) Fan speed control dial 3) Airflow control dial 4) Control switch of the defogger and deicer system (Refer to "Defogger and deicer".) 5) Air conditio ...