Armrest (if equipped)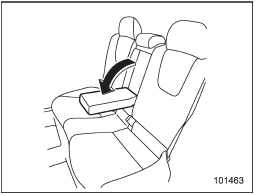 Armrest (if equipped)
To lower the armrest, pull on the top edge of the armrest.

To avoid the possibility of serious injury, passengers must never be allowed to sit on the center armrest while the vehicle is in motion.
See also:
When there is no CD inserted
Insert a CD by referring to "How to insert a CD (type A)" F5-19 / "How to insert a CD (s) (type B)" F5-19. When a CD is loaded, the player will start playback of the CD, beginning with the first ...
Tire rotation direction mark
Example of tire rotation direction mark 1) Front If the tire has a rotation direction specification, the tire rotation direction mark is placed on its sidewall. When you install a tire that has ...
Safety symbol
You will find a circle with a slash through it in this manual. This symbol means "Do not", "Do not do this", or "Do not let this happen", depending upon the context. ...