Reclining the seatback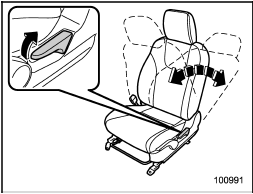 Reclining the seatback
Pull the reclining lever up and adjust the seatback to the desired position. Then release the lever and make sure the seatback is securely locked into place.
The seatback placed in a reclined position can spring back upward with force when the lever is pulled. While operating the lever to return the seatback, hold the seatback lightly so that it may be raised back gradually.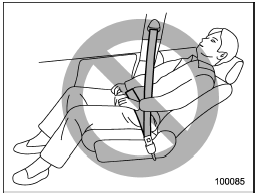 To prevent the passenger from sliding under the seatbelt in the event of a collision, always put the seatback in the upright position while the vehicle is in motion. Also, do not place objects such as cushions between the passenger and the seatback. If you do so, the risk of sliding under the lap belt and of the lap belt sliding up over the abdomen will increase, and both can result in serious internal injury or death.
See also:
Using your Owner's Manual
Before you operate your vehicle, carefully read this manual. To protect yourself and extend the service life of your vehicle, follow the instructions in this manual. Failure to observe these instr ...
How to jump start
1. Make sure the booster battery is 12 volts and the negative terminal is grounded. 2. If the booster battery is in another vehicle, do not let the two vehicles touch. 3. Turn off all unnecess ...
When selecting a CD to play (type B)
Disc select buttons Press a desired one of the disc select buttons the disc number indicator of which steadily lights up. The player will then start playback of the selected CD, beginning with ...