Combination meter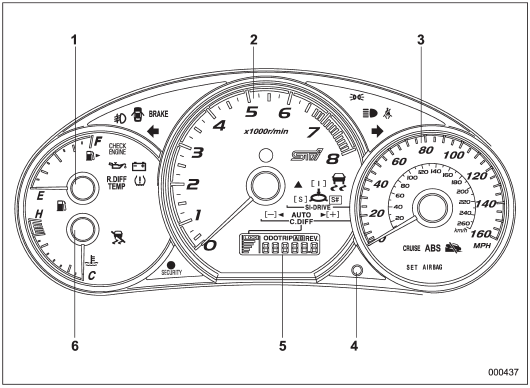 U.S.-spec. models (STI)
1) Fuel gauge
2) Tachometer
3) Speedometer
4) Trip meter A/B selection and trip meter reset knob
5) Odometer/Trip meter
6) Temperature gauge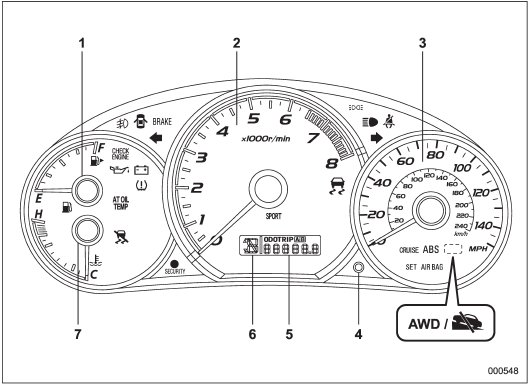 U.S.-spec. models (turbo models except STI)
1) Fuel gauge
2) Tachometer
3) Speedometer
4) Trip meter A/B selection and trip meter reset knob
5) Odometer/Trip meter
6) Select lever/gear position indicator (AT models)
7) Temperature gauge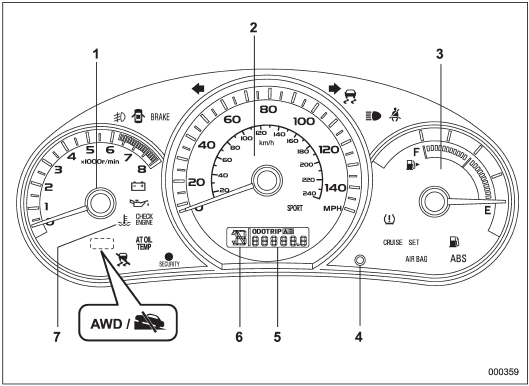 U.S.-spec. models (non-turbo models)
1) Tachometer
2) Speedometer
3) Fuel gauge
4) Trip meter A/B selection and trip meter reset knob
5) Odometer/Trip meter
6) Select lever/gear position indicator (AT models)
7) Coolant temperature warning/indicator light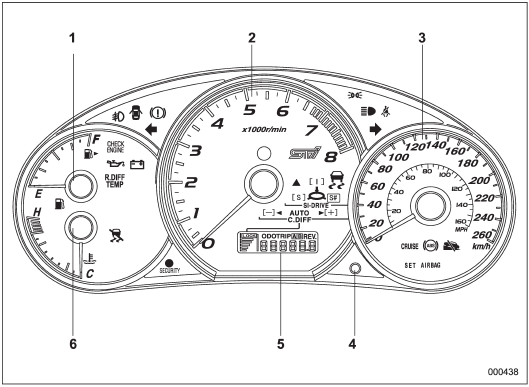 Except U.S.-spec. models (STI)
1) Fuel gauge
2) Tachometer
3) Speedometer
4) Trip meter A/B selection and trip meter reset knob
5) Odometer/Trip meter
6) Temperature gauge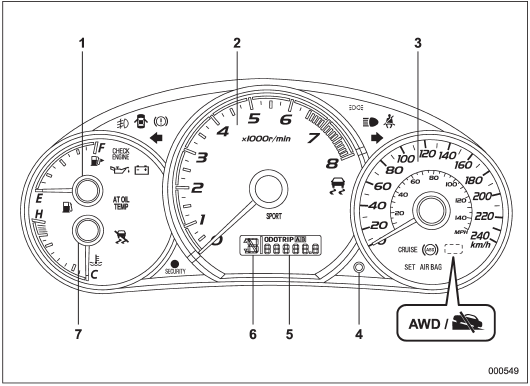 Except U.S.-spec. models (turbo models except STI)
1) Fuel gauge
2) Tachometer
3) Speedometer
4) Trip meter A/B selection and trip meter reset knob
5) Odometer/Trip meter
6) Select lever/gear position indicator (AT models)
7) Temperature gauge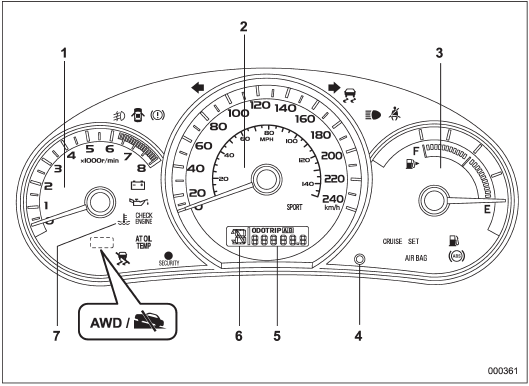 Except U.S.-spec. models (non-turbo models)
1) Tachometer
2) Speedometer
3) Fuel gauge
4) Trip meter A/B selection and trip meter reset knob
5) Odometer/Trip meter
6) Select lever/gear position indicator (AT models)
7) Coolant temperature warning/indicator light
See also:
Going & Stopping
Subaru increased the Tribeca's standard horizontally opposed six-cylinder from 3.0 to 3.6 liters for 2008. The new engine makes 256 horsepower, which is a modest increase over the previous engine' ...
Redial
1. Select the УREDIALФ menu. 2. Press the OFF hook switch . 3. Select the desired number by turning the УTUNE/TRACK/CHФ dial. 4. Perform either of the following procedures. Ц Press the OFF hook ...
Automatic illumination (models with moonroof)
The map lights illuminate automatically in the following cases. Х Any of the doors other than the rear gate is opened. (The map lights do not illuminate when only the rear gate is opened.) Х The door ...