Combination meter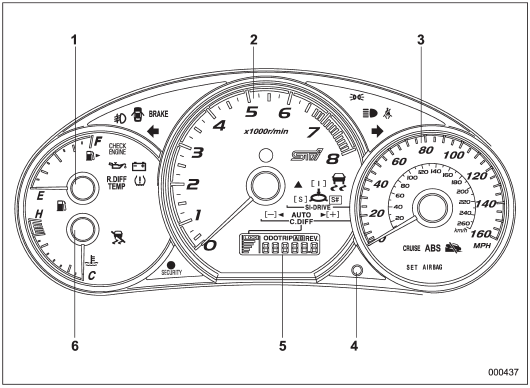 U.S.-spec. models (STI)
1) Fuel gauge
2) Tachometer
3) Speedometer
4) Trip meter A/B selection and trip meter reset knob
5) Odometer/Trip meter
6) Temperature gauge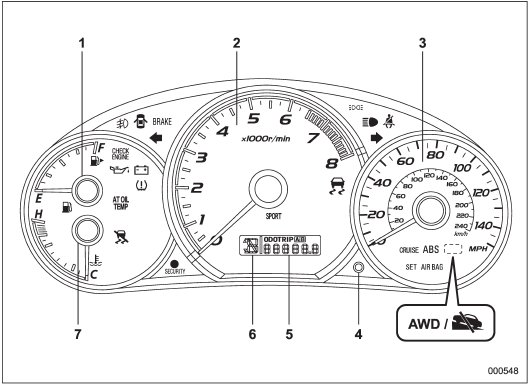 U.S.-spec. models (turbo models except STI)
1) Fuel gauge
2) Tachometer
3) Speedometer
4) Trip meter A/B selection and trip meter reset knob
5) Odometer/Trip meter
6) Select lever/gear position indicator (AT models)
7) Temperature gauge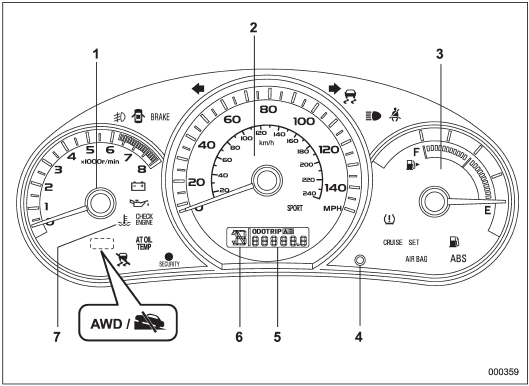 U.S.-spec. models (non-turbo models)
1) Tachometer
2) Speedometer
3) Fuel gauge
4) Trip meter A/B selection and trip meter reset knob
5) Odometer/Trip meter
6) Select lever/gear position indicator (AT models)
7) Coolant temperature warning/indicator light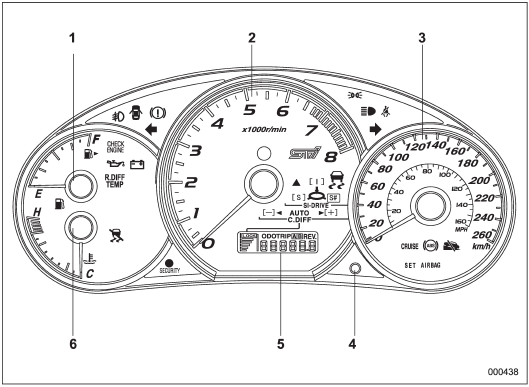 Except U.S.-spec. models (STI)
1) Fuel gauge
2) Tachometer
3) Speedometer
4) Trip meter A/B selection and trip meter reset knob
5) Odometer/Trip meter
6) Temperature gauge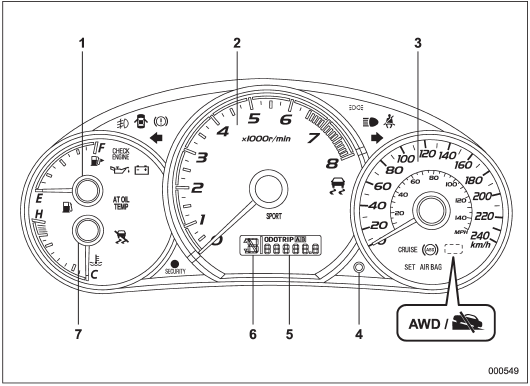 Except U.S.-spec. models (turbo models except STI)
1) Fuel gauge
2) Tachometer
3) Speedometer
4) Trip meter A/B selection and trip meter reset knob
5) Odometer/Trip meter
6) Select lever/gear position indicator (AT models)
7) Temperature gauge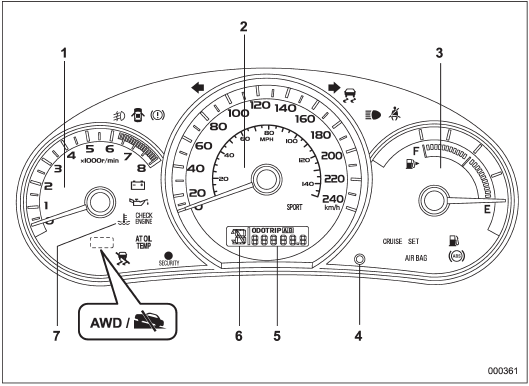 Except U.S.-spec. models (non-turbo models)
1) Tachometer
2) Speedometer
3) Fuel gauge
4) Trip meter A/B selection and trip meter reset knob
5) Odometer/Trip meter
6) Select lever/gear position indicator (AT models)
7) Coolant temperature warning/indicator light
See also:
Installing child restraint systems with A/ELR seatbelt
- Child restraint systems and seatbelts can become hot in a vehicle that has been closed up in sunny weather; they could burn a small child. Check the child restraint system before you p ...
Recommended shifting speeds
The best compromise between fuel economy and vehicle performance during normal driving is ensured by shifting up at the speeds listed in the following table. ...
Abbreviation list
You will find several abbreviations in this manual. The meanings of the abbreviations are shown in the following list. ...