Combination meter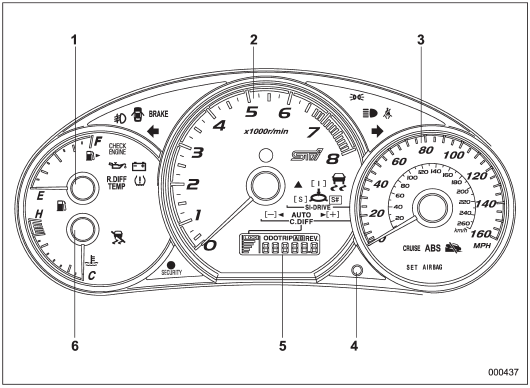 U.S.-spec. models (STI)
1) Fuel gauge
2) Tachometer
3) Speedometer
4) Trip meter A/B selection and trip meter reset knob
5) Odometer/Trip meter
6) Temperature gauge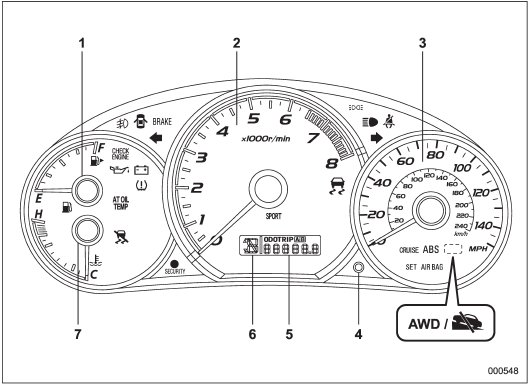 U.S.-spec. models (turbo models except STI)
1) Fuel gauge
2) Tachometer
3) Speedometer
4) Trip meter A/B selection and trip meter reset knob
5) Odometer/Trip meter
6) Select lever/gear position indicator (AT models)
7) Temperature gauge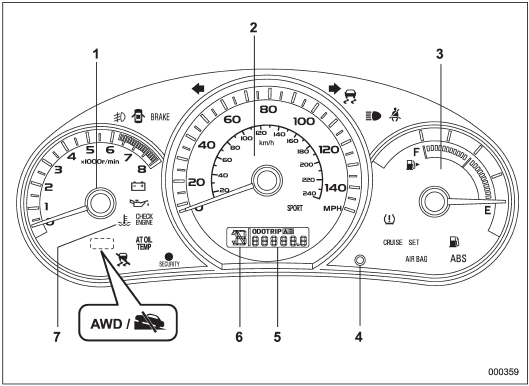 U.S.-spec. models (non-turbo models)
1) Tachometer
2) Speedometer
3) Fuel gauge
4) Trip meter A/B selection and trip meter reset knob
5) Odometer/Trip meter
6) Select lever/gear position indicator (AT models)
7) Coolant temperature warning/indicator light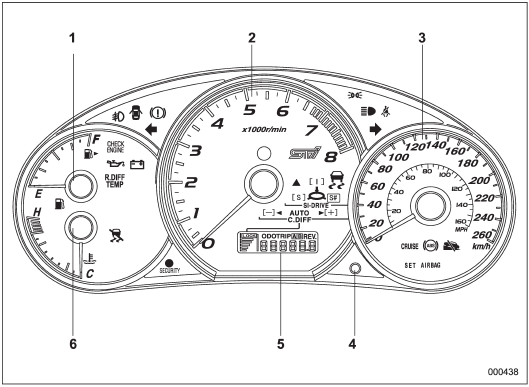 Except U.S.-spec. models (STI)
1) Fuel gauge
2) Tachometer
3) Speedometer
4) Trip meter A/B selection and trip meter reset knob
5) Odometer/Trip meter
6) Temperature gauge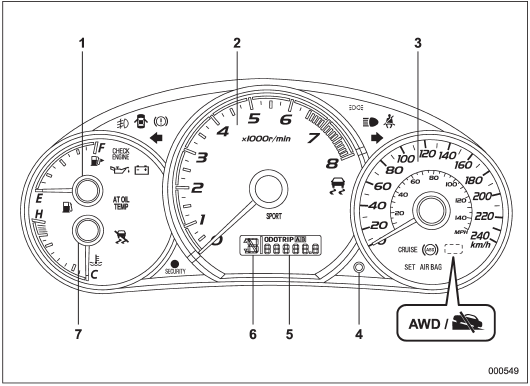 Except U.S.-spec. models (turbo models except STI)
1) Fuel gauge
2) Tachometer
3) Speedometer
4) Trip meter A/B selection and trip meter reset knob
5) Odometer/Trip meter
6) Select lever/gear position indicator (AT models)
7) Temperature gauge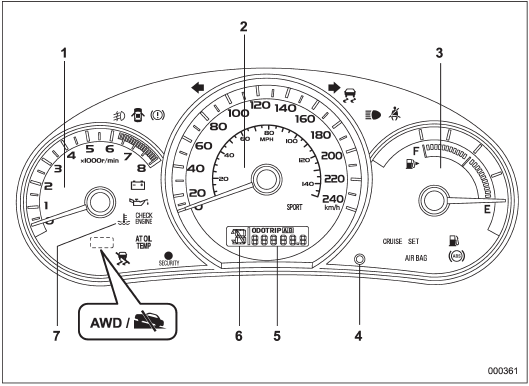 Except U.S.-spec. models (non-turbo models)
1) Tachometer
2) Speedometer
3) Fuel gauge
4) Trip meter A/B selection and trip meter reset knob
5) Odometer/Trip meter
6) Select lever/gear position indicator (AT models)
7) Coolant temperature warning/indicator light
See also:
Compass zone adjustment
Compass calibration zones 1. The zone setting is factory preset to Zone 8. Refer to the УCompass calibration zonesФ map shown above to verify that the compass zone setting is correct for your geograp ...
Fan speed control dial
The fan operates only when the ignition switch is turned to the УONФ position. The fan speed control dial is used to select four fan speeds. ...
Unleaded gasoline
The neck of the fuel filler pipe is designed to accept only an unleaded gasoline filler nozzle. Under no circumstances should leaded gasoline be used because it will damage the emission contro ...