Combination meter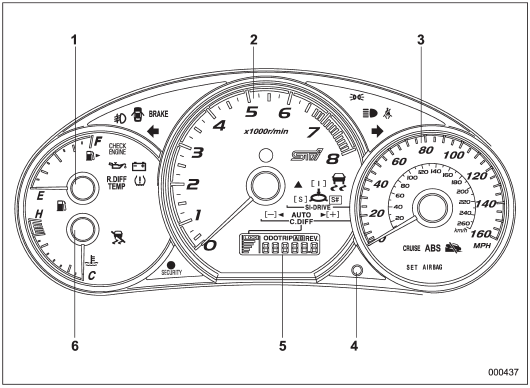 U.S.-spec. models (STI)
1) Fuel gauge
2) Tachometer
3) Speedometer
4) Trip meter A/B selection and trip meter reset knob
5) Odometer/Trip meter
6) Temperature gauge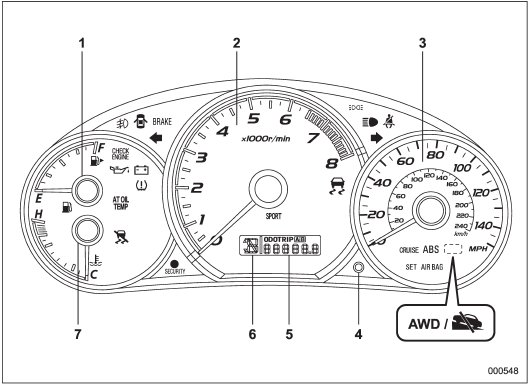 U.S.-spec. models (turbo models except STI)
1) Fuel gauge
2) Tachometer
3) Speedometer
4) Trip meter A/B selection and trip meter reset knob
5) Odometer/Trip meter
6) Select lever/gear position indicator (AT models)
7) Temperature gauge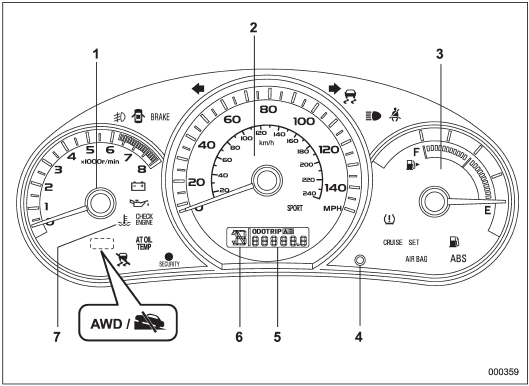 U.S.-spec. models (non-turbo models)
1) Tachometer
2) Speedometer
3) Fuel gauge
4) Trip meter A/B selection and trip meter reset knob
5) Odometer/Trip meter
6) Select lever/gear position indicator (AT models)
7) Coolant temperature warning/indicator light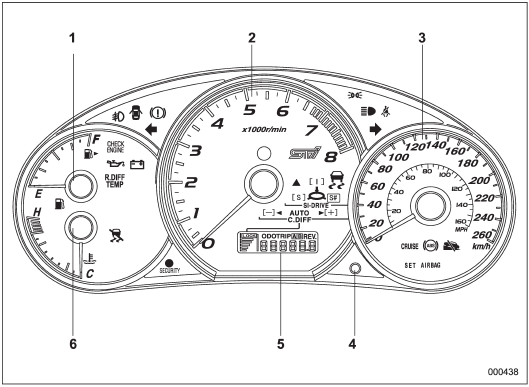 Except U.S.-spec. models (STI)
1) Fuel gauge
2) Tachometer
3) Speedometer
4) Trip meter A/B selection and trip meter reset knob
5) Odometer/Trip meter
6) Temperature gauge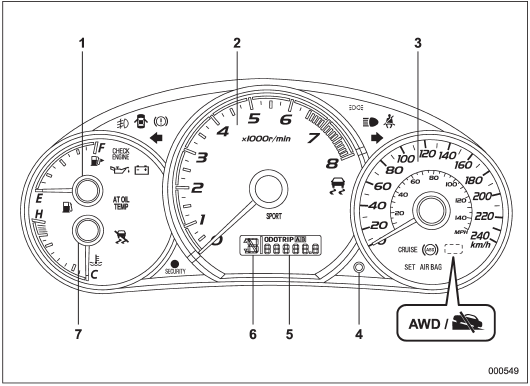 Except U.S.-spec. models (turbo models except STI)
1) Fuel gauge
2) Tachometer
3) Speedometer
4) Trip meter A/B selection and trip meter reset knob
5) Odometer/Trip meter
6) Select lever/gear position indicator (AT models)
7) Temperature gauge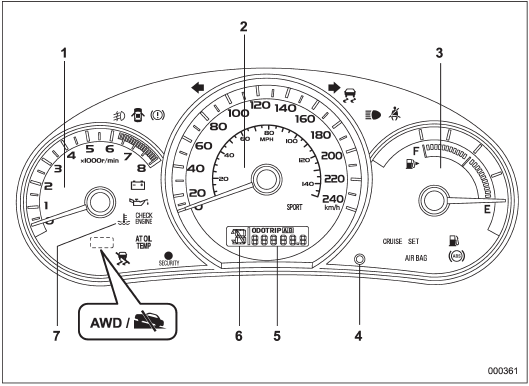 Except U.S.-spec. models (non-turbo models)
1) Tachometer
2) Speedometer
3) Fuel gauge
4) Trip meter A/B selection and trip meter reset knob
5) Odometer/Trip meter
6) Select lever/gear position indicator (AT models)
7) Coolant temperature warning/indicator light
See also:
P Metric
With the P-Metric system, Section Width is measured in millimeters. To convert millimeters into inches, divide by 25.4. The Aspect Ratio (Section Height divided by Section Width) helps provide more d ...
Front fog light indicator light (if equipped)
This indicator light illuminates while the front fog lights are illuminated. ...
Washer
To wash the rear window while the rear wiper is operating, turn the knob clockwise to the "" position. The washer fluid sprays until you release the knob. To wash the rear window when the rear wiper ...