Rear window side seating position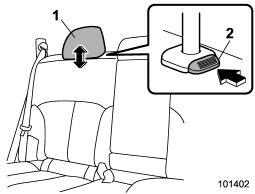 1) Head restraint 2) Release button
To raise:
Pull the head restraint up.
To lower:
Push the head restraint down while pressing the release button on the top of the seatback.
To remove:
While pressing the release button, pull out the head restraint.
To install:
Install the head restraint into the holes that are located on the top of the seatback until the head restraint locks.
The head restraint should be adjusted so that the center of the head restraint is closest to the top of the occupant's ears. When the seats are not occupied, lower the head restraints to improve rearward visibility.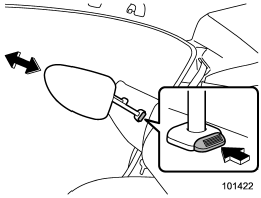 NOTE
For Legacy, it is not possible to remove or install the head restraint without folding down the rear seatback. Fold down the rear seatback and then remove or install the head restraint.
See also:
Defrosting or defogging the windshield
To direct warm air to the windshield and front door windows: 1. Set the air inlet selection button to the OFF position. 2. Press the "" button. 3. Turn the temperature control dial all the way to t ...
Armrest
To lower the armrest, pull on the top edge of the armrest. WARNING To avoid the possibility of serious injury, passengers must never be allowed to sit on the center armrest while the vehicle is ...
Selecting audible signal operation
Using an electronic chirp, the system will give you an audible signal when the doors lock and unlock. If desired, you may turn the audible signal off. Do the following to deactivate the audible signa ...