Rear window side seating position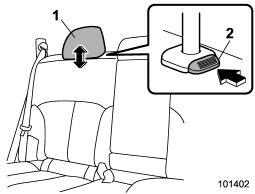 1) Head restraint 2) Release button
To raise:
Pull the head restraint up.
To lower:
Push the head restraint down while pressing the release button on the top of the seatback.
To remove:
While pressing the release button, pull out the head restraint.
To install:
Install the head restraint into the holes that are located on the top of the seatback until the head restraint locks.
The head restraint should be adjusted so that the center of the head restraint is closest to the top of the occupant's ears. When the seats are not occupied, lower the head restraints to improve rearward visibility.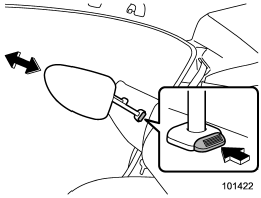 NOTE
For Legacy, it is not possible to remove or install the head restraint without folding down the rear seatback. Fold down the rear seatback and then remove or install the head restraint.
See also:
Using a warm water washer
- Keep a good distance of 12 in (30 cm) or more between the washer nozzle and the vehicle. - Do not wash the same area continuously. - If a stain will not come out easily, wash by hand. Some w ...
Driving with a trailer
● You should allow for considerably more stopping distance when towing a trailer. Avoid sudden braking because it may result in skidding or jackknifing and loss of control. ● Avoid ab ...
XMTM satellite radio reception tips for antenna on the windshield (for U.S.A. only — if equipped)
For some models, the satellite radio antenna is fixed to the upper right hand corner of the windshield. The XMTM satellite radio receiver that is fitted to your vehicle receives the necessary signa ...