Main fuse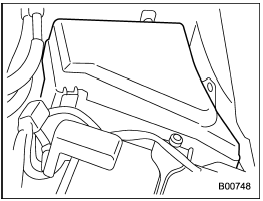 Main fuse box
The main fuses are designed to melt during an overload to prevent damage to the wiring harness and electrical equipment.
Check the main fuses if any electrical component fails to operate (except the starter motor) and other fuses are good. A melted main fuse must be replaced. Use only replacements with the same specified rating as the melted main fuse. If a main fuse blows after it is replaced, have the electrical system checked by your nearest SUBARU dealer.
See also:
Two separate circuits
Your vehicle has a dual circuit brake system. Each circuit works diagonally across the vehicle. If one circuit of the brake system should fail, the other half of the system still works. If one cir ...
Pre-heating or pre-cooling the interior of the vehicle
Before exiting the vehicle, set the temperature controls to the desired setting and operation. After the system starts the vehicle, the heater or air-conditioning will activate and heat or coo ...
Brake pedal
Check the brake pedal free play and reserve distance according to the maintenance schedule in the "Warranty and Maintenance Booklet". ...