Main fuse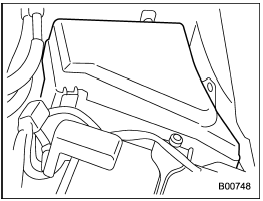 Main fuse box
The main fuses are designed to melt during an overload to prevent damage to the wiring harness and electrical equipment.
Check the main fuses if any electrical component fails to operate (except the starter motor) and other fuses are good. A melted main fuse must be replaced. Use only replacements with the same specified rating as the melted main fuse. If a main fuse blows after it is replaced, have the electrical system checked by your nearest SUBARU dealer.
See also:
High/low beam change (dimmer)
To change from low beam to high beam, push the turn signal lever forward. When the headlights are on high beam, the high beam indicator light "" on the combination meter is also on. To switch b ...
Инжектор - что такое, как работает
Инжектор - От Английского Ingections- впрыскивать. Это устройство предназначается для подачи жидкости в какой-то объем. Самым простым примером может служить садовый распрыскиватель. Автомобильный и ...
Defroster button
To defrost or dehumidify the windshield and front door windows, press the defroster button "". When the "" button is pressed, the air conditioner compressor automatically operates to quickly ...