Rear window wiper blade assembly
1. Raise the wiper arm off the rear window.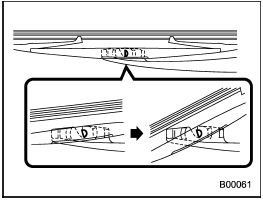 2. Turn the wiper blade assembly counterclockwise.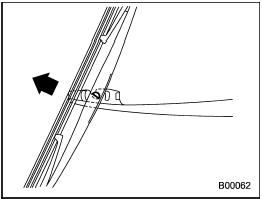 3. Pull the wiper blade assembly toward you to remove it from the wiper arm.
4. Install the wiper blade assembly to the wiper arm. Make sure that it locks in place.
5. Hold the wiper arm by hand and slowly lower it in position.
See also:
Brake booster
The brake booster uses engine manifold vacuum to assist braking force. Do not turn off the engine while driving because that will turn off the brake booster, resulting in poor braking power. The ...
Light control and wiper control levers/switches
1) Windshield wiper (page 3-31) 2) Mist (page 3-32) 3) Windshield washer (page 3-33) 4) Rear window wiper and washer switch (page 3-34) 5) Wiper intermittent time control switch (page 3-33) 6) ...
Vanity mirror light
1. Remove the lens by prying the edge of the lens with a flat-head screwdriver. 2. Pull the bulb out of the socket. 3. Install a new bulb. 4. Reinstall the lens. ...