Checking the oil level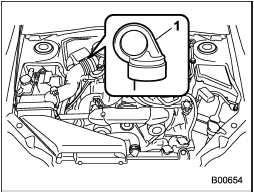 Non-turbo models
1) Yellow handle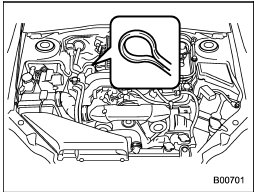 Turbo models except STI
Check the oil level monthly.
1. Park the vehicle on a level surface and stop the engine.
2. Pull out the level gauge, wipe it clean, and insert it again.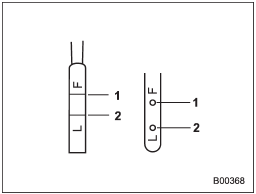 1) Upper level
2) Lower level
3. Pull out the level gauge again and check the oil level on it. If it is below the lower level, add oil through the level gauge hole to bring the level up to the upper level.

Be careful not to spill manual transmission oil when adding it. If oil touches the exhaust pipe, it may cause a bad smell, smoke, and/or a fire. If oil gets on the exhaust pipe, be sure to wipe it off.
NOTE
There is no transmission oil level gauge for STI. Consult your SUBARU dealer to check the oil level.
See also:
Tone and balance control
Each brief press of the "TUNE/TRACK/ CH" dial changes the control modes in the following sequence. Choose the desired level for each mode by turning the "TUNE/TRACK/CH" dial. The control func ...
How to insert a CD(s) (type B)
1. Briefly press the "LOAD" button. If the magazine in the player has an idle position where you can insert a disc, the disc number indicator associated with the idle position will blink. If no ...
Safety symbol
You will find a circle with a slash through it in this manual. This symbol means "Do not", "Do not do this", or "Do not let this happen", depending upon the context. ...