Windshield washer fluid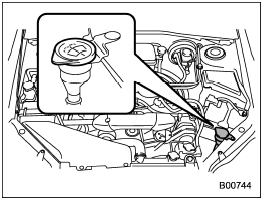 If you spray washer fluid on the windshield but the supply of washer fluid appears to diminish, check the level of washer fluid in the tank.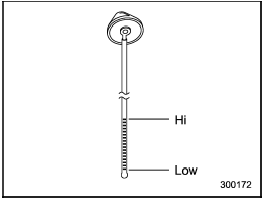 Washer fluid level gauge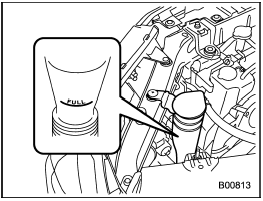 Remove the washer tank filler cap, then check the fluid level indicated by the level gauge (attached to the inside of the cap).
If the level is near the "Low" mark, add fluid until it reaches the "Hi" level on the level gauge or the "FULL" mark on the tank.
Use windshield washer fluid. If windshield washer fluid is unavailable use clean water.
In areas where water freezes in winter, use an anti-freeze type windshield washer fluid. SUBARU Windshield Washer Fluid contains 58.5% methyl alcohol and 41.5% surfactant, by volume. Its freezing temperature varies according to how much it is diluted, as indicated in the following table.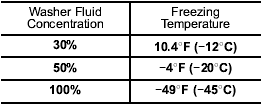 Never use engine coolant as washer fluid because it could cause paint damage.
In order to prevent freezing of washer fluid, check the freezing temperatures in the table above when adjusting the fluid concentration to the outside temperature.
If you fill the reservoir tank with a fluid with a different concentration from the one used previously, purge the old fluid from the piping between the reservoir tank and washer nozzles by operating the washer for a certain period of time. Otherwise, if the concentration of the fluid remaining in the piping is too low for the outside temperature, it may freeze and block the nozzles.

Adjust the washer fluid concentration appropriately for the outside temperature. If the concentration is inappropriate, sprayed washer fluid may freeze on the windshield and obstruct your view, and the fluid may freeze in the reservoir tank.
See also:
AT OIL TEMP warning light (AT and CVT models)
The AT oil temperature warning light "AT OIL TEMP" illuminates when the ignition switch is turned to the "ON" position and turns off after approximately 2 seconds. If this light illuminates when t ...
Airflow mode selection button
Select the desired airflow mode by pressing the airflow mode selection button. The selected airflow mode is shown on the display. There are four airflow modes that activate the following air outl ...
Map lights
Type A Type B To turn on the map light, push the switch. To turn it off, push the switch again. When leaving the vehicle, make sure the lights are turned off to avoid battery discharge. NOTE For ...