Checking the brake pedal reserve distance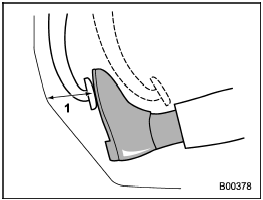 1) More than 2.56 in (65 mm)
Depress the pedal with a force of approximately 66 lbf (294 N, 30 kgf) and measure the distance between the upper surface of the pedal pad and the floor.
When the measurement is smaller than the specification, or when the pedal does not operate smoothly, contact with your SUBARU dealer.
See also:
Replacing the air cleaner element
Replace the air cleaner element according to the maintenance schedule in the "Warranty and Maintenance Booklet". Under extremely dusty conditions, replace it more frequently. It is recommended ...
Air cleaner element
WARNING Do not operate the engine with the air cleaner element removed. The air cleaner element not only filters intake air but also stops flames if the engine backfires. If the air cleaner eleme ...