Checking the oil level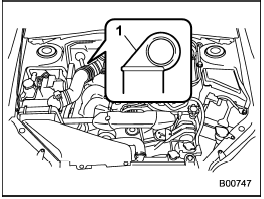 1) Yellow handle
1. Park the vehicle on a level surface and stop the engine.
2. Pull out the level gauge, wipe it clean, and insert it again.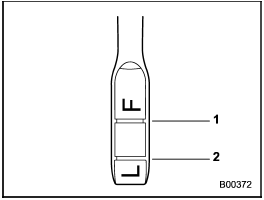 1) Upper level
2) Lower level
3. Pull out the level gauge again and check the oil level on it. If it is below the lower level, add oil to bring the level up to the upper level.

Be careful not to spill front differential gear oil when adding it. If oil touches the exhaust pipe, it may cause a bad smell, smoke, and/or a fire. If oil gets on the exhaust pipe, be sure to wipe it off.
See also:
Parking in cold weather
Do not use the parking brake when parking for long periods in cold weather since it could freeze in that position. Instead, you should observe the following tips. 1. Place the shift lever in У1Ф or ...
Tribeca in the Market
As the saying goes, you only have one chance to make a first impression. That applies in the car world, and Subaru now has an uphill battle to get consumers who may have been turned off by the B9 ...
Callback
1. Select the УCALL BACKФ menu. 2. Press the OFF hook switch . 3. Select the desired number by turning the УTUNE/TRACK/CHФ dial. 4. Perform either of the following procedures. Ц Press the OFF ho ...